by Annie Rose Ansley, HOPE Trips Liaison
This blog post was originally posted on Esperanza International's blog.
I like to be independent. I like to accomplish and improve things without relying on or waiting for anyone else. Anyone with me?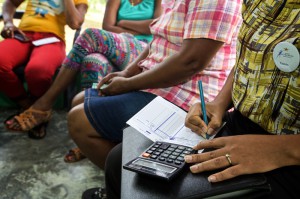 Yet here in the Dominican Republic, microfinance groups with HOPE's partner, Esperanza International, are opening my eyes to the beauty and paradoxical freedom of dependence. Forming a group is the first requirement to taking out a small loan with Esperanza. If an individual cannot repay their loan for any reason, the responsibility lands with the group. This system may sound scary, but it works. Social collateral—neighbors and friends—can be a very powerful guarantee. Members of solidarity groups live in small, close-knit communities, which positively influence each member to repay.
But, of course, there are times when someone is unable to pay back. I have been at many meetings where one client readily covers the meeting's loan payment for another. Likewise, I have seen these advances repaid time and again. These examples of community dependence are a slice of humble pie for my spirit of skepticism and self-reliance. Continue Reading…