One year ago today, the struggling nation of Haiti was devastated by an earthquake that killed over 200,000 and left 1.5 million homeless. In the aftermath, stories of broken-down ports and backlogged airports began to cast doubt on the effectiveness of relief efforts—and the effectiveness of the billions of dollars in aid that had been poured into Haiti in the previous decades.
Even as some were predicting that Haiti was beyond hope, we* saw persuasive evidence to the contrary. HOPE has always believed that Haiti's strength lies in its people. Resilient, determined, and hopeful, their spirits were not crushed. Those who had little began sharing with those who had less. Some of HOPE's clients, who lived in northern Haiti and were not directly impacted by the quake, took others who were forced to flee the devastation of Port-au-Prince into their homes. We saw, and have continued to see, God at work in their generosity.
One year after Haiti's earthquake, HOPE's approach to helping Haiti is fundamentally unchanged. We continue to invest in the country's people by providing small loans and basic business training for those who are ready to begin a business, and we've worked to expand our savings services for those who simply need a safe place to save for future emergencies or for a fresh start. Our Savings and Credit Associations have become not only a place for people to accumulate usable sums of money, but also a place where the love of Christ is shared and community is built. Members are saving for the future and finding that this simple act of preparation helps them focus on the promise of tomorrow.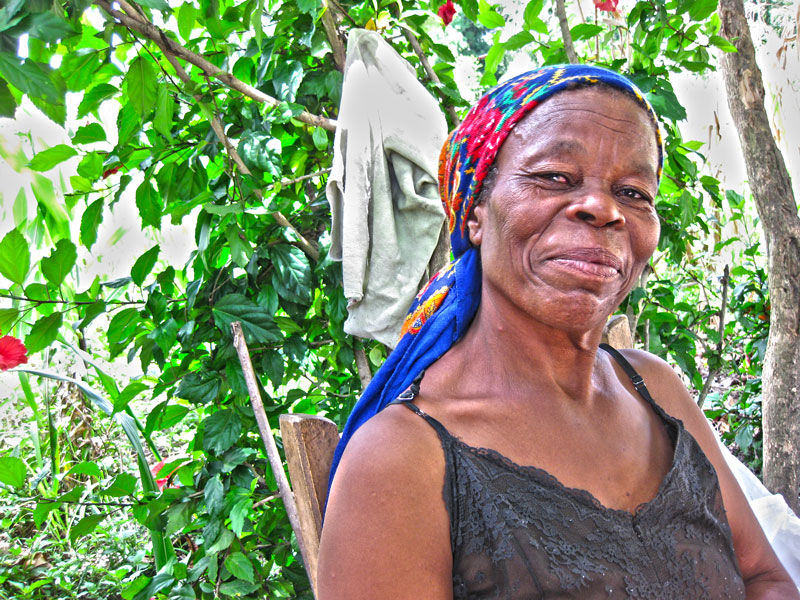 Julies Jeaconteau turns leftover rice bags into rope, which she sells, along with produce, at a local market. She's a mother of eight children, five of whom still live at home, and because her husband has been blind for the past 20 years, a great deal of the responsibility for their provision falls to her. Last year she joined a HOPE Haiti savings group with 15 of her fellow community members. Each week she sets aside $1.62 and experiences the strength of community solidarity. She says it used to be difficult to save her money, but with the group's support she has accumulated significant savings, and has even accessed two loans of $50 from the group to continue growing her business. Though there was a time when she might have looked to others for help, she says that's different now: "We can find the money we need within the group instead of having to look outside for help." She describes the group's support as "a strong embrace."
HOPE continues to walk with the people of Haiti in the aftermath of this tragedy. Today, as they remember the events of last January 12, HOPE has staff in the field to talk with our clients and to hear their stories of struggle and of triumph. We look forward to sharing some of these stories with you in the weeks to come. Thank you for your continued prayers and support for HOPE's ministry and the people of Haiti as we continue to find ways to empower individuals and communities!
*In Haiti, HOPE works in partnership with Esperanza International.