One year after Haiti's devastating earthquake, HOPE International's Katie Straight travelled to the country to walk in solidarity with our clients and staff as they remembered the pain of January 12, 2010. She joins them in reflecting on the continued challenges and continued promise of what's to come.
We woke up this morning and watched the sun slowly rise over the hills of Port-au-Prince onto the still-rubbled city below. On the anniversary of the devastating earthquake that shook Haiti one year ago, Port-au-Prince was relatively quiet. Mourners arose early to fill churches with song and prayer, while a great number of the city's inhabitants stayed off the roads. As we twisted our way through the city, we passed a crowd of people gathered at the foot of the still-crumbled National Palace, listening to politicians speak through crackling loudspeakers about rebuilding Haiti. We drove past tent cities and through the epicenter of the earthquake, where destroyed buildings made somber memorials for the anniversary. For three hours we twisted our way along country roads en route to HOPE's Savings and Credit Association (SCA) program in Cadiac, Haiti.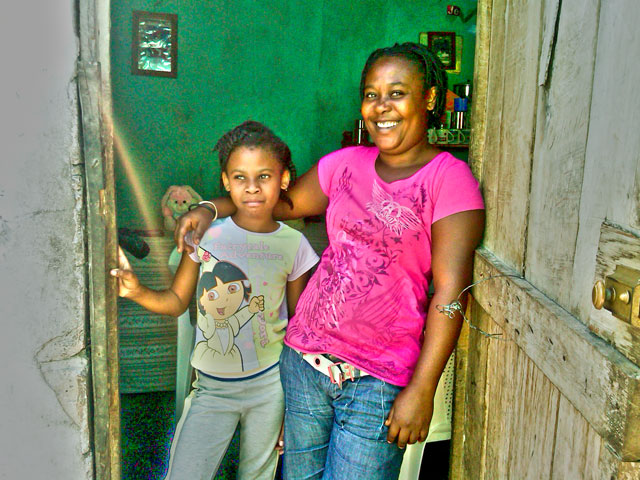 We arrived in rural Cadiac in time to hear the worship ringing from the Fils de Lumiere (Son of Light) Church as Pastor Paul led the congregation, many of whom are SCA members, in a commemorative service. We walked throughout the community, sitting down with SCA group members in their homes and listening as they shared their stories. I was encouraged to see the ways that group members have been impacted by the savings program. One client, Mary Mat, told us excitedly about how, after her third savings cycle, she had grown her business and saved enough to purchase materials to begin to build her first home. Another client, Claudette Pierre Lois, told us, "It is God who brought this program to Haiti, because it taught me how to save. Now, when I save, today is not the same as yesterday because today I saved 5 gourdes. And tomorrow I will have 10 gourdes." Claudette also told us about the impact the savings program has had on her relationships with women in the community. "I have closer relationships with the women in my group now," Claudette explained. "I have learned about how to live in good relationship with God, myself, and my community." It is so encouraging, on a day marked by so much frustration and mourning throughout Haiti, to see individuals in this community being empowered by HOPE's Christ-centered microeconomic development.