January 17, 2012, 12:15 EST – Kinshasa, Democratic Republic of Congo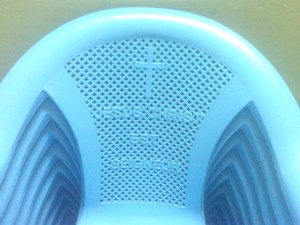 I send you greetings from Kinshasa, the capital city of the Democratic Republic of Congo. Kinshasa is right across the Congo River from Brazzaville. It's about a 10-minute boat ride. Sounds like an easy day, right?
I started the morning at HOPE Congo in Brazzaville. My plan was to spend the morning with Manny Palis, our managing director of HOPE Congo, and his leadership team, then leave in the early afternoon to catch the ferry to Kinshasa. After morning devotions I parted ways with Peter Greer, who is flying back to the States, and David Johnson, who is flying to Liberia for his next photo shoot. Then, at about 10:30 a.m., we got a call from the HOPE DRC staff, saying that since today is a national holiday in DRC, the last ferry leaves at noon. Uh oh. We hustle over to the river crossing. Fortunately Manny was kind enough to come with me so we could finish our conversation.
Crossing the river is a mysterious process, particularly for those of us who don't speak French. It involves filling out forms, quite a bit of arguing, and prolonged periods of time where I am not in possession of my passport. Fortunately, we have dedicated and ingenious staff members on both sides of the river who help us get across smoothly. The ferry ride itself is a respite between the customs processes on each side of the river.
On the other side of the river, I am met by Mercy Allah-Asra, the managing director of HOPE DRC, our microfinance institution in DRC. Allah-Asra has led HOPE DRC for the past two years, and his home country is Chad. Since today is a national holiday, there is almost zero traffic in the city at 2 p.m. Normally the traffic is brutal on a workday. Our office is closed, so I check into Caritas, a Catholic guesthouse where I'll stay while I'm here, and I spend most of the afternoon working, resting, and blogging of course.
Allah-Asra and I are going out to dinner tonight. Recall in a previous post when I talked about our country leaders introducing us to eclectic and adventurous foods. I'm curious and nervous to see what awaits.
For the next three days I will be visiting HOPE DRC with a similar agenda as I've had in Rwanda and Republic of Congo. I will spend most of my time in the field observing client meetings, and the rest of the time meeting with Allah-Asra and his staff.