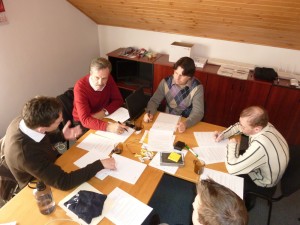 Hello everyone.  My name is Matthew Rohrs, and I serve as HOPE International's Director of Spiritual Integration.  In case you are newer to HOPE, for us spiritual integration refers to our intentional effort to put Christ at the center of everything we do.  This includes client and community outreach, staff discipleship, partnership with the local church, and a deep desire to honor Christ in the way that we offer financial services to the poor.
Over the next few days, I am going to share some thoughts and reflections from the 2012 Spiritual Integration Summit for our individual lending programs.  This is my first ever blogging experience, and as a rookie blogger, I hope to share some worthwhile thoughts with our friends in cyberspace.
In this first post, I'd like to explain the purpose of the SI Summit.  The HOPE International network works in 16 countries, and our programs consist of three main types:  group-based micro-lending, savings and credit associations, and individual lending programs.  Each of these models presents unique opportunities and challenges and requires a contextualized approach to spiritual integration.  However, this need for contextualization does not mean that our models do not share important similarities that can be leveraged into best practices.
Within the network, there are four programs that focus on extending loans to individuals: HOPE Ukraine, HOPE Russia, and our partners Invest-Credit in Moldova and ROMCOM in Romania.  The leaders of each program came together on February 1-2 in Oradea, Romania, to push one another in spiritual integration in their individual lending ministries.  In addition to these leaders from the field, a team of five U.S.-based HOPE staff also came to support the effort and learn together.  The two-day Summit was designed to identify and celebrate the best of what God has already done in each program, to dream and pray together about His will for the future, and to make practical action plans for greater effectiveness in 2012 and beyond.
I hope that gives you a brief explanation of the purpose of the Summit.  In our next few posts, Bryan Hoppe and I will write about what happened and share some stories from this unique event.