Approximately 70 percent of the clients served in the HOPE network are women. In honor of International Women's Day, we celebrate the remarkable mothers, sisters, wives, daughters, and entrepreneurs making a powerful difference in their families and communities.
When Christie's mother suddenly fell ill in the middle of the night, an ambulance ride to the hospital cost more than they could afford. And later, when Christie's pregnant sister-in-law had delivery complications at home, no ambulance could've reached them in time. Yet both her mother and sister-in-law made it to the hospital in time because Christie is one of the few women in Brazzaville, Republic of Congo, who owns and drives a car. Having the resources to provide for her family's needs, Christie says, is "a gift of God."
A few year ago, owning a car was a distant dream. Christie used to struggle to turn even a small profit from her market stand selling fruit and vegetables. Bad weather and fluctuations in market prices often meant inconsistent income for her family. So when she joined HOPE Congo, she invested her first business loan in more stable products like rice and beans. With each loan cycle after that, Christie diversified her inventory, slowly transitioning to office supplies.
Today, her business is a bustling stationery shop, selling pens and notebooks to students and providing local businesses with copy and print services. With a steady income—enough to send her children to school and purchase a car—Christie has found a new entrepreneurial spirit, saying, "My business is a true stationery shop. … Today, I'm a business woman."
As the shop has grown, so has Christie's vision. Having bought two new computers and looking to rent a larger space, she hopes to start an internet café to cater to her existing customers. Beyond her new business ventures, Christie remains committed to her HOPE community bank, driving members to repayment meetings and suggesting new ways the group can grow together in solidarity. She especially appreciates the 20 minutes of each meeting spent in the Word: "The Word of God cultivates love among us. It solidifies the connections between group members."
Seeing God's blessing in her business and family, Christie knows where her strength comes from, saying, "It's the Holy Spirit who equips." And she is determined to use her God-given gifts, skills, loans, and even her car to provide for her family and bless her community. "We believe that God has given us these things to help us," she says. "We have to show Him what we do with it."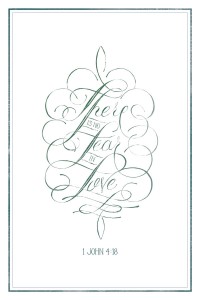 Do you know a woman like Christie whose dreams and prayers have helped shape your life? Honor her courage and love with this FREE digital print download at www.uncharity.org!