by Sylvie Somerville, Former Program Manager, HOPE Malawi
A myth of HOPE expat work is that we spend every day interacting with clients, drinking from the hose of transformation stories you can find all over this blog.
Instead, I spent about one day a month in the field with the savings group members HOPE Malawi serves. I cherished these times of watching and listening to the unique ways people save, build businesses, and discuss the changes in their lives and communities.
My two years in Malawi, however, were filled with ongoing stories from those I did get to watch every day—partner and office staff. God is moving through HOPE and through our church partners to change lives at every level! I cannot think of a single person I've been privileged to spend my daily HOPE life with who doesn't have a beautiful story of spiritual and economic transformation. I'll cherish these stories and relationships above all else that I experienced in this lovely country.
Getrude (left) is the most ambitious Malawian girl I've met. In addition to her duties mentoring 27 church volunteers, coaching groups during share-outs of their savings, analyzing reports, and writing member stories, she purchased a refrigerator using her own share-out from our staff savings group. At only 23 years old, her plans are underway to open a small restaurant in town. She wakes up at 4 a.m. most mornings, eager to not waste a single minute seeking God and His purpose for her life. Her prayer life and ability to disciple others have blossomed in her last two years with HOPE.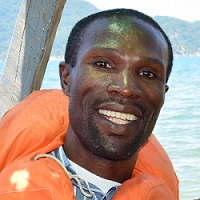 Trevor hit one of the lowest points in his life right before joining HOPE as a regional field coordinator through his church. Nearly burnt out with the emotionally taxing duties of pastoral care in a broken and disunified denomination, he was questioning God's purposes and ready to quit. The peace and unity the savings ministry has brought his denomination have also brought new life and meaning in Trevor's life.
Tom is an experienced church planter with over 60 rural churches under his belt. But before joining HOPE's work, he had been praying for years that God would show him a more effective way to reach families in poverty. He loves to talk about how the savings ministry, and its focus on changing the poverty mindset, has been the answer to that prayer.
Timothy is using share-outs from the staff savings group to purchase a fleet of minibuses (all in time!) for which he hires drivers and collects daily revenue. He's worn many hats in the HOPE office and navigated each duty with an increasing level of attention, prayerfulness, and competent leadership.
Fred lost both his parents within two months of joining as HOPE Malawi's driver and has since found a new family in the staff. His excitement for and application of the Word in his personal and professional life has grown; he now understands and appreciates the Old Testament and uses the Bible without fear among his unbelieving friends. He's also learning how to type and devours training material so he can eventually serve in other capacities on the team.
I wish I had space to list every person on our 18-strong team and detail the ways God has been working in their lives since they joined HOPE. I could list the ways God has transformed my own faith from a vertical relationship of sin management and sanctification to a Kingdom-oriented, self-sacrificial faith.
I had the privilege last week in Rwanda of meeting with two groups of facilitators, the heart and soul of the savings program. Across HOPE's savings programs in Africa, we have 1,330 facilitators, trained to mentor and train groups. Some of these men and women have other jobs. Some are pastors or community leaders. Some are passionate young people with a heart to change their own material poverty, as many of them also live on $1 a day. They too have experienced transformation through their participation in the savings ministry:
Celestin emphasized the impact of savings on his own family—he's now trained all his kids to save and has bought chickens, sheep, and goats. He told us how he didn't know or care about using money wisely before he became a facilitator. Now, he mentors others in his community to be good stewards.
Daniel told us how he was filled with fear and couldn't stand in front of people before he was chosen by his pastor to become a facilitator. Now, he's able to preach and train. His own leadership gifts have been empowered through the ministry.
If you've ever wondered whether the stories of HOPE's clients are representative of the entire network, let me encourage you. I've watched the dignified image of God develop in each one of HOPE's staff as they walk deeper into God's plans for their social, spiritual, economic, and material wellbeing. This in turn will reach thousands, and I'm forever grateful for the opportunity to watch part of that transformation. May God continue to bless you, HOPE International!
Sylvie grew up in Gaithersburg, Maryland, and graduated from the University of Richmond in May 2011 with a B.S. in mathematical economics and a B.A. in classical civilization. Sylvie worked with HOPE International in India and in Lancaster, Pennsylvania, before moving to Lilongwe, Malawi, to work with HOPE's Malawi savings and credit association program. She recently returned to the U.S. to pursue graduate school.