by Grace Engard, Graphic Designer
"None of this was here a few years ago."
This phrase and variations of it would be repeated again and again during the six days I was in Ukraine. This particular time, my group stood in the center of a small mountain town called Khust in western Ukraine. Down the middle of the cobblestone street, a perfect line of trees dotted a strip of lush green grass. Wooden benches lined either side of the strip, and ornate lampposts towered above. As the afternoon sun filtered in, I imagined the otherwise drab, gray street without the grass and decorations—the way it would have looked only a few years ago.
Ukraine has had a turbulent history, being divided and conquered by various countries for centuries. As a post-Soviet nation, Ukraine's economy has struggled under the weight of corruption and conflict since the early 1990's. Even after much economic improvement starting in 2000, the country's GDP plummeted once again in 2014 following the civil unrest and later conflict in eastern Ukraine. Still today, jobs are scarce, uncertainty runs high, and the average Ukrainian lives on only about $240 per month.
And yet …
In a rural area of western Ukraine, fifteen men and women (pictured, top) in a Roma community—the most marginalized people group in Ukraine—are learning to save small amounts of money together on a regular basis to provide for their families.
A client of HOPE Ukraine, Ala, chooses to sell secondhand clothing in small villages outside of her hometown in western Ukraine for the benefit of those who aren't able to travel to a larger city or afford new clothes.
Nataliya (pictured above), another HOPE Ukraine client, didn't have the opportunity for a good education for herself, but she now sells candies and pastries at a market near Kiev so that her grandson can learn English. She says he is the best in his class.
And the repeated comments of my Ukrainian guides showed me that hope is alive in this country, and it's seen in things as simple as the beautification of a city street.
Overcome (v): to get the better of in a struggle or conflict; conquer; defeat
In 2016, even as tensions with Russia persisted, Ukraine celebrated 25 years of independence and Ukrainian President Petro Poroshenko declared amidst patriotic cheering and flag-waving that "the enemy has failed … to bring Ukraine to its knees."
I met people during my six days in Ukraine whose circumstances are considerably more difficult than mine, and I saw those same people overcoming—"getting the better of." And not only overcoming, but flourishing. And not only flourishing themselves, but even using their gifts and resources to help others along on the path to flourishing.
***
Join us in a 4-minute video prayer for Ukraine. We'll pray for clients served by HOPE Ukraine, as well as members of HOPE's savings program among the Roma, a marginalized community in Ukraine.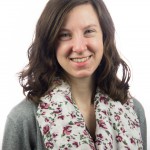 Grace joined the HOPE team as a graphic designer in 2012, after graduating from Houghton College. Originally from the Philadelphia area, she now lives in Lancaster, PA, and loves learning about other cultures, hiking, baking, and reading.