By Amie Davis, Houston Regional Representative
On August 25, Hurricane Harvey crashed into the Gulf Coast, dropping up to 50 inches of rain in some areas. An estimated 100,000 families have been displaced, with up to 80 percent of those households being uninsured against flood damage. Today, almost three weeks after the storm's initial onset in Texas, many homes remain underwater.
I live in Houston, and Harvey (and the resulting floods) is still at the forefront of Houstonians' minds. While I was walking in my neighborhood several days ago, my neighbor and I reflected on how strange it feels to have a dry home to go back to, when so many lives have been upturned. As many Houstonians huddled in their homes, many were protected simply because of where their houses stand. Those of us who've been spared by the recent hurricanes in Houston, Florida, and the Caribbean find ourselves in a unique position to use our undeserved blessings to help others.
At HOPE, we mourn the losses sustained by Texas and Florida residents, many of whom are also HOPE supporters. We grieve the losses sustained by clients of HOPE Haiti and Esperanza International, HOPE's partner in the Dominican Republic.
We also celebrate the heroic acts of local citizens who have courageously chosen to help their neighbors, assisting with evacuations, completing water rescues, and now undertaking the difficult work of repairing homes and businesses damaged in the floods. The local church in many ways is shining, and we are encouraged by watching Christ's body love their communities in tangible ways.
As churches in Houston, Florida, and across America step in, many HOPE supporters have contacted us to ask how they might assist with recovery efforts. While HOPE International's ministry focus is in long-term development in countries outside the U.S., we affirm the importance of supporting immediate, local relief efforts for our neighbors right now, as well as sustainable, empowering rehabilitation in the months (and years) to come. Below is a list of updates, by region, as well as recommended organizations vetted by Charity Navigator, America's largest independent charity evaluator:
Texas (Hurricane Harvey)
Many HOPE supporters have flood damage to their homes. Many others have been involved in relief efforts, whether by rescuing neighbors with their own boats, helping with home renovation, or hosting families displaced by flooding.
Please pray for continued effectiveness in the Church's response, stamina for those assisting with relief efforts, and protection for workers and flood victims still exposed to flood waters. Please also pray for economic recovery: that God would provide meaningful work for those displaced by the floods and that they would soon be able to provide for their own families. Above all, pray that the tangible aid given by the body of Christ would be used by God to open hearts to the eternal love of Christ.
To support relief efforts on the Gulf Coast, consider giving to one of these organizations recommended by Charity Navigator. If you'd like to give directly to a church, two local church bodies responding with excellence are Bayou City Fellowship and Grace Bible Church. If your heart is for long-term economic empowerment, consider supporting The WorkFaith Connection.
Florida and the Caribbean (Hurricane Irma)
Haiti: Farming communities on the north side of the country (where many HOPE savings group members live) suffered serious damage, hurting both an important resource for food supply and for income. There is a fear of cholera in the northern part of the country now, especially with flooding. Please pray for savings groups to support one another—materially, emotionally, and spiritually—and pray that any spreading of cholera would quickly stop.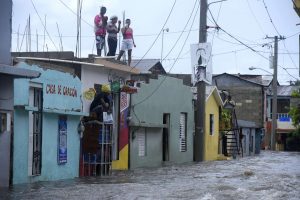 Dominican Republic: All clients of HOPE's partner, Esperanza, are safe. The town of Puerto Plata had serious flooding and extended power outages that affected many clients, and Esperanza's staff there missed two days of work in that branch office. Please pray for clients' businesses to quickly recover and for protection from future instability. Also pray for speedy repair to water infrastructure that serves 1.2 million residents. Pray that Esperanza staff would have wisdom in navigating these challenges and that they would be equipped with the love of Christ to support the many in their areas in need of help.
Florida: Please pray for comfort for families who have lost loved ones, and for perseverance for local authorities who continue to rescue and assist local communities.
To support relief efforts in Florida and the Caribbean, consider giving to an organization suggested by Charity Navigator.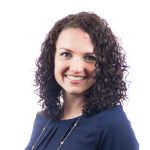 Amie joined HOPE International from the Richards Group in Dallas, where she managed brands such as H-E-B Grocery and Advance Auto Parts. Prior to working in advertising, Amie served with International Justice Mission in Cambodia, writing and coordinating media relations focused on IJM's work combatting sex trafficking. Amie serves as HOPE International's representative in Houston. Her focuses include building relationships with HOPE's supporters and finding new ways to communicate how microenterprise development impacts clients holistically.
Feature image from the Houston Chronicle
Image from the Dominican Republic by Luis Tavarez/EPA