As part of our commitment to personal and corporate discipleship, staff members of HOPE International engage each month with a "Faith in Practice" theme. Our goal is to grow in the knowledge of that spiritual theme and live it out in our day-to-day lives. Recently, we studied our call to take Christ's posture of hospitality in order to serve His people around the world.
By Dan Williams, Director of Spiritual Integration
I still remember the dread I felt at age 12 on my first day at a new school after my family had moved from North Carolina to Virginia. And I also remember the safety and relief I felt when Stash, a boy that would soon become my closest friend, invited me to join his friends at the lunch table.
I remember my fear of being taken advantage of by predatory market vendors when I first moved to Niger. And I also remember how Pastor Djibo would come by and offer to go with me to the market to make sure I got fair prices.
In my current work at HOPE, I am blessed with the opportunity to travel. Whether I'm driving from my home in Durham, NC, to HOPE's office in Lancaster, PA, or flying to visit HOPE-network programs around the world, I'm regularly overwhelmed by the hospitality I experience. I can tell you every person who ever came to greet me at the airport instead of letting me take a taxi, every meal that I've had in someone else's home while traveling, every couple that slept in their children's room so that they could offer their guest the most comfortable bed, and every person who enthusiastically took me to all the touristy things in their city when they surely had something more important to do.
I remember these moments because hospitality impacts us—and it leaves us changed.
Whether we realize it or not, as followers of Christ, we've each experienced profound hospitality—not because we've extended it but because we've received it.
When God instructed the Israelites to welcome and provide for the foreigner, and when Jesus instructed His followers to show kindness to their enemies, these were not mere lessons in morality; God was teaching us about ourselves and about Himself. We had become foreigners, alienating ourselves from God, yet He welcomed us. We had become His enemies, yet He showed us kindness. We are all beneficiaries of His divine hospitality.
As those transformed by His hospitality, we are called to go and imitate His divine nature. Here are three ways to receive Christ's hospitality and extend it to others:
EXPLORE the universal call that God has given for us to be hospitable. Use these passages to reflect on examples from Scripture: Genesis 1 | 2 Kings 4:8–17 | Acts 2:41–47 | Romans 5:6–8.
JOIN OTHERS on the journey. Don't go it alone; instead, meet up with other Christ-followers to discuss the Lord's call to be hospitable. Together discern the ways the Lord is calling you to practice hospitality, corporately and individually. Make a plan and get specific, identifying who you want to be hospitable toward, what sort of invitation you plan to extend, when it will take place, etc. Hospitality requires space to welcome strangers into, so make sure you also talk with each other about the ways you'll work to create margin in your life to welcome others. This could include making space in your schedule, in your home, in your church, or even in your work routine. Hold one another accountable to the commitments you've made.
PRACTICE. There's a reason we say that hospitality is "practiced." We learn by doing. Intentionality is important, but don't allow grand plans to stop you from simple and creative gestures of hospitality—greet people at airports, take visitors shopping, give car rides, and share your umbrella. Gather around tables to break bread and share life with those who are different from you. Often, this means learning how to willingly inconvenience ourselves for the sake of another.
It is my prayer that we'll continue not only to receive Christ's hospitality but also to extend it to others. In Isaiah 58:8, the prophet offers a beautiful picture of the dramatic impact that hospitality can have: When our faith moves us to loving action on behalf of others, he says, "[our] light will break forth like the dawn, and [our] healing will quickly appear."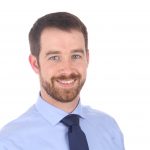 Dan joined HOPE in 2011 and has served in a variety of roles, currently serving as director of spiritual integration. He studied international business at the University of South Carolina and served for 2 1/2 years as a missionary in Niger. He and his wife, Ashley, live in Durham, NC, where they are active members of Christ Central Church.
Featured image: A HOPE savings group in Malawi