Starting out as small business owners, Leah Reyes and her husband relied on an unstable income to meet the needs of their young family. And even as they gradually grew their tricycle transport business, they could only employ a few neighbors from day to day. They needed larger loans to invest in greater community impact.
INCREDIBLE GROWTH

In 2006, Leah took her first loan from CCT (the Center for Community Transformation), HOPE's local partner in the Philippines, to help her scale up her transportation business. Since that time, she has added a line of trucks and buses and expanded into managing a grocery store, a cooking gas business, and a large logistics operation. With later loans, she even purchased a cargo ship to transport agricultural supplies to the small island she lives on.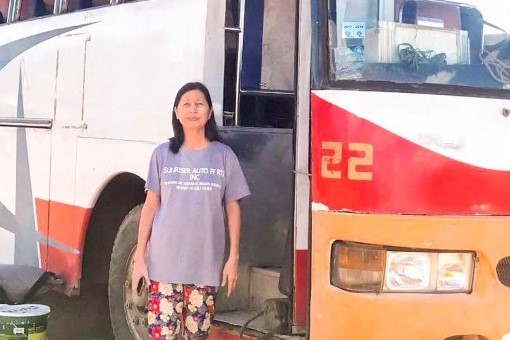 SETBACKS AND FRIENDSHIP

At one point, when an overloaded ship sank, Leah lost nearly $40,000 worth of groceries. Knowing her dependability, CCT offered her a six-month grace period and waived her late repayment fees. This personal relationship with CCT has extended beyond financial support: When Leah's husband had a stroke, staff and pastors from CCT prayed for and visited the family frequently.
RESPONDING TO NEEDS
Motivated to tangibly love her community, Leah helped solve local needs—like distributing gas for cooking when charcoal was outlawed. When their island experienced a rice shortage, Leah used a loan to import thousands of kilos of rice, selling it at a fair price when all other stores had skyrocketing prices. Today, she employs 34 workers, many of whom were previously unemployed, and is affectionately known as Nanay (meaning "mother") Leah.
---
Small-and-medium-enterprise (SME) loans equip entrepreneurs to scale businesses, create jobs, and meet community needs.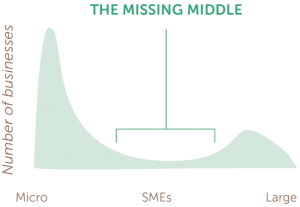 Many small businesses in middle-income countries have outgrown typical microfinance loan sizes but still do not qualify for commercial lending (The Entrepreneurial Finance Lab Research Initiative at Harvard University). Stuck in the "missing middle," these companies have great potential to provide jobs and contribute to the local economy, yet credit barriers stand in their way.
In 2019, the HOPE network served 1,330 SME entrepreneurs who, like Leah, are providing new opportunities for their communities.
---
HOLISTIC IMPACT
Each week, Nanay Leah's employees join her and a CCT pastor for a time of fellowship. Nanay Leah provides a meal and shares from the Bible. An example to her workers of being rooted in faith, she affirms:
Success does not come from one's own strength, but from God. … It's good to be with God.
One way we're helping entrepreneurs recover from the financial shocks of coronavirus lockdowns is to offer grace periods, just as CCT did for Nanay Leah. Join us in creatively supporting the men and women we serve as they get back to work and rebuild their dreams.