The war in Ukraine rages on, with the fighting concentrated in southern, eastern, and northern regions. Thus far, Ukrainian forces have strongly resisted Russian attacks, and there is a great spirit of unity among Ukrainians. The United Nations estimates that over 2 million people have evacuated Ukraine as refugees, and millions more are displaced within Ukraine, having relocated to areas farther away from areas under attack.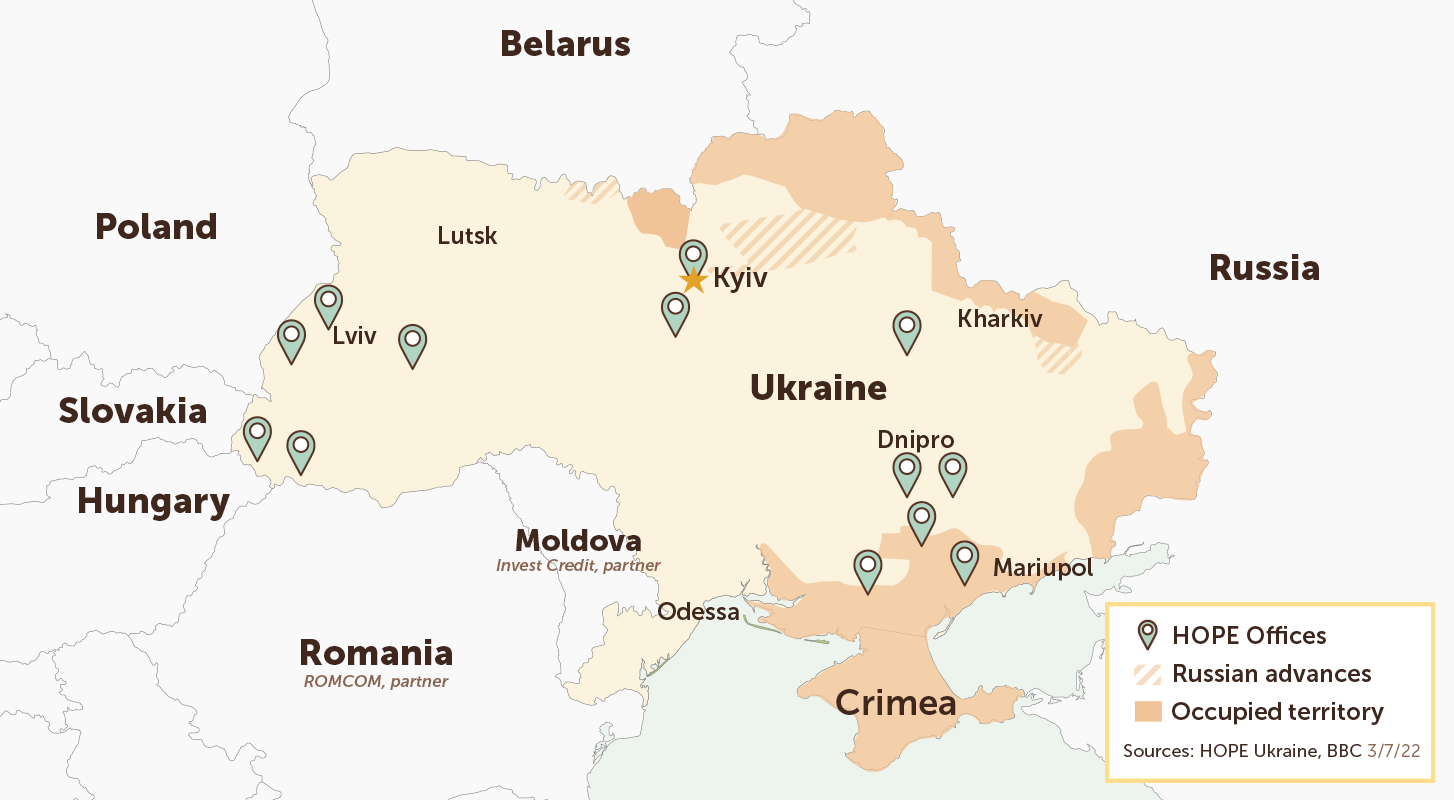 HOPE continues to focus on four priorities:
We're providing immediate support to HOPE Ukraine staff as they relocate their families away from violence.
We're in contact with each of HOPE Ukraine's 47 staff members, and most of them are now in safe areas. Some staff in the west are hosting relocated colleagues (see featured image above) and their families in their homes.
We still have 15 staff members in unstable regions in the east and south, where they have chosen to stay for now. Please pray for them in their decisions regarding safety. We praise God that several staff members evacuated this week from unsafe areas under intense Russian attack.
Our primary focus continues to be safety and meeting basic needs for relocated staff. Many staff who relocated have arrived in the west quite exhausted from a long multi-day journey. Some could lose everything and are unsure what they will return to. Please pray for them to find peace and replenishment in the midst of the chaos.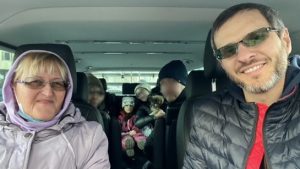 We're providing support to Ukrainian refugees on a limited scale, working through our local partners and other organizations in the region.
HOPE's local microfinance partners, Invest Credit (Moldova) and ROMCOM (Romania) are continuing efforts to support Ukrainian refugees arriving at their respective borders. (Pictured on the left: Ghenadie Russu, executive director for Invest Credit, driving refugees from the Ukrainian border.) While these efforts are at a relatively small scale, their teams are working tirelessly to care for these families.
We are coordinating with our existing church and organizational partners in Ukraine and other church networks to support relief efforts outside of our existing microfinance operations.
We heard from two pastors who help lead HOPE Ukraine's savings group program among the Roma community in western Ukraine—currently a safer region. In Europe, the Roma are typically looked down upon and discriminated against, and most of them live in poverty. We learned from these two pastors that their churches are currently hosting 125 refugees fleeing the violence. We're so inspired by their generosity!
We're providing grace periods and repayment flexibility on all outstanding loans for the entrepreneurs and farmers served by HOPE Ukraine.
Because the conflict situation has been so volatile, it's taking some time to get a comprehensive picture of the impact on HOPE Ukraine entrepreneurs, who are spread throughout the country. HOPE Ukraine staff have been able to reach about a third of those we serve to ask how they are doing, see if we can offer assistance, and ask how we can pray for them.
We are answering questions from entrepreneurs and farmers about their loans and communicating about grace periods and waiving interest accrual. We will continue to assess and extend this if needed in coming days.
We're working to preserve HOPE Ukraine's ability to respond well once the violence ends.
We're praying daily for a quick end to this war. And when it comes, HOPE Ukraine entrepreneurs, farmers, and staff will need to recover from damage to property, lost income, etc. HOPE's microfinance team has begun mapping out scenarios for our response to potential outcomes to the war. We want to be well prepared to adapt as the situation changes—so our staff can be ready to help Ukrainians rebuild when the time comes.
Please pray! Pray for the forces who are defending Ukrainian cities and civilians with their lives. Pray for Russian forces to choose peace and disobey orders to advance. Pray for an end to the invasion in Ukraine and all violence resulting from these attacks.
Sign up to join our monthly prayer update here. If you missed our first update after Russia began its invasion of Ukraine, posted on February 24, find that here.