by Lance Wood, HOPE board member
This post was originally shared in 2018 and was updated and re-published in July 2022.
Fourteen years ago, my wife, Jeanie, and I were looking for organizations that our family could partner with. As believers, we were searching not just for a nonprofit but for a ministry that does good work while sharing the Gospel. And as someone who built a career in the accounting field, I sought an organization making the biggest possible impact per giving dollar.
HOPE International checked both of those boxes—and more.
Here are the top 10 reasons why I am all in with HOPE:
1. HOPE is Christ-centered.
HOPE's first strategic objective is to follow Christ's example and to obey and proclaim Him in all areas of their work. HOPE focuses on eternal impact. And although HOPE is clearly Christ-centered, it seeks to serve both Christians and non-Christians alike.
2. HOPE offers a hand up, not a handout.
Committed to sustainability, HOPE's model builds on the fundamental belief that God has already gifted each client with valuable skills and resources. As people living in poverty work to develop these gifts and begin to see progress in their lives, they experience a restored sense of dignity and empowerment.
3. HOPE delivers an extraordinarily high impact per giving dollar.
Incredibly, HOPE's average investment per client last year was $25. So, for about the cost of three LED lightbulbs, HOPE can reach men and women with the life-transforming news of the Gospel and the financial tools they need to flourish. When you consider the fact that most of HOPE's clients have children, spouses, or other dependents, the impact becomes even greater!
4. HOPE focuses on underserved communities.
HOPE specifically works in and expands to areas with limited or even non-existent banking services. The introduction of small loans and savings in these contexts can make a really big difference, magnifying the impact of our giving dollar even more.
5. HOPE serves the most vulnerable: women and children.
The majority of HOPE's clients are women, who face marginalization, lack of education, and exclusion from financial services that their male counterparts often do not encounter. As a result, it is more difficult for women to find employment. Microenterprise development is an effective way to empower them with the tools they need to provide for themselves and their kids.
6. HOPE attracts top-quality staff.
The caliber, passion, and competence of HOPE network staff in the U.S. and around the world has impressed me—this is truly more than just a job for them. Additionally, the majority of field staff are from the countries in which they serve, so they're better positioned culturally and linguistically to minister to HOPE clients there.
7. HOPE's programs become self-sustaining.
In several of the countries where HOPE operates, the microfinance programs have reached 100 percent operational self-sufficiency (OSS). This means that without the injection of another dollar, the program could fully cover its own local costs. This also means that any additional contributions can be dedicated to fueling expansion of the network in that country and others.
8. HOPE has a 25-year track record, and its model is working.
HOPE International is not a start-up trying to figure out what to do next or how best to serve. Since its founding in 1997, the HOPE network has served over 2.4 million people. It's a well-run, efficient organization.
I'm a tax guy, so let's not miss this. Our giving dollar goes even further with tax deductions!
10. HOPE's impact is validated by Charity Navigator.
Last year, Charity Navigator awarded HOPE its fifteenth consecutive four-star rating. This top rating indicates HOPE's adherence to good governance and other best practices that minimize the chance of unethical activities and demonstrate its commitment to consistently executing its mission in a fiscally responsible way. Less than 1 percent of the organizations rated by Charity Navigator have achieved this distinction.
Since 2008, our family has spent thousands of hours with both staff and clients of the HOPE International network. We've talked with loan officers, prayed with clients, and met with leadership. Because of this, we continue to believe that HOPE creates more impact for the giving dollar than any other organization in the world. That's why we're in 100% with HOPE.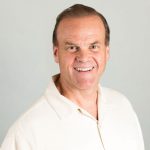 Lance Wood is a CPA and spent much of his career as a tax partner at PricewaterhouseCoopers. Now, he serves on several boards and is also the area director for Orange County, CA, for the National Christian Foundation. A passionate HOPE supporter, he serves on HOPE International's board of directors and as chair of HOPE's local advisory board in California. He and his wife have five children and live in Southern California.