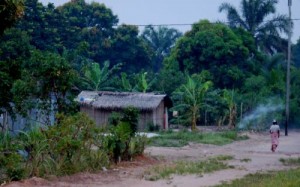 This past weekend, some friends and I went to see what life is like outside the city.  So we boarded a huge Mercedes bus headed north, and five bumpy, wind-blown hours later, we found ourselves standing on the side of the road in a small village called Ollombo about a quarter of a degree shy of the Equator.  The people of Ollombo live in small homes made mostly of mud, thatch, and local wood, and the whole community is a pleasantly ordered network of dirt footpaths connecting the market, the soccer field, the school, churches, and homes.  At first glance, it might appear that this village has nothing to do with HOPE's work in Brazzaville hundreds of miles away, but I see a pretty clear connection.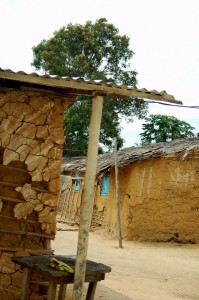 Ollombo is a beautiful place, and the people seem to be in good spirits. But with few exceptions, the people of Ollombo get by without electricity, indoor plumbing, concrete floors, privacy, internet, TV, books, quality education and healthcare. Wage-paying jobs are almost impossible to come by, which means most people have very restricted access to cash. Their very means of survival comes through subsistence agriculture – they eat only what they can grow themselves or secure through bartering (aka lots and lots of nutrient-poor manioc). Partly because they're so disconnected from the outside world, superstition and poor health practices are cripplingly prevalent.
Not surprisingly, many people get out of Ollombo as soon as they can save up $10 for a bus ride to Brazzaville. And there are hundreds of towns like Ollombo all over the Republic of Congo. I think this helps explain why more than 25% of the country's population lives in Brazzaville. It's universal – when you're desperate for opportunity, you move in whatever direction you think will give your family the best shot at a better way of life. Some of the people who made that kind of bus ride are now HOPE Congo clients, or will be very soon.
When they say they want their businesses to improve so their children can live better lives than they had, images like the living conditions in Ollombo are driving their ambition. Clients already have the skills, the understanding of local markets, the time, the good work ethic – by giving them access to capital and basic training, HOPE is simply giving them one of the last puzzle pieces they've been waiting for."