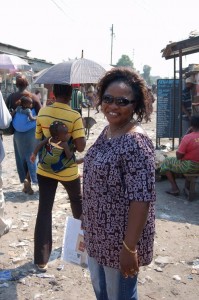 Meet Loveline, HOPE Congo's first loan officer supervisor.  Loveline played a valuable role in assembling and training the first 50 clients, and she is also managing and training the current staff of two loan officers.  She provides an important layer of internal controls and efficiency for HOPE Congo's work.  Honestly, when I think about Loveline, the first phrase that comes to mind is "rock star."
If you go into the markets, the churches, les quartiers (neighborhoods), she knows and is known by everyone.  She's the kind of confident, striking woman that you automatically respect and listen to, but she's also gentle, smiles often, and has a good sense of humor.
Loveline was born in a small town where people grew sugar cane, and she moved to Brazzaville with her family when she was older.  By the time Congo's civil war started in 1997, she was already married and had two children.  Because of intense violence in the capital, her family joined thousands of others fleeing Brazzaville.  She settled with her husband's family in a small town 600 km from Brazzaville.  At the time, Loveline's husband was struggling with mental illness, and her in-laws pressured her to take him to a witchdoctor for treatment.
Loveline had been raised Catholic, and though she says she didn't know the Lord, she refused to put her husband in this position because she "had faith in something greater."  She started praying, reading the Bible, and understanding what was written.  When she read Psalm 91, she understood that God was her refuge, her protection and he was at work through everything that was happening to her.  "That's where I saw the hand of God and came to know the Lord."
After five months in the village without access to a hospital, her husband was still in need of help. When it was safe enough to return to the city, she and her husband decided to go to a church in the city.  While they were there, church leaders offered to pray for his sickness, and that same day, he was healed.  Her husband also came to know the Lord, and they were baptized together in 1998.  They continued to mature in faith as their pastor discipled them and taught them from the Word.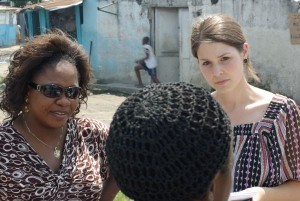 Loveline had experience in microfinance even before she came to HOPE.
For nine years, she worked for a Christian multi-sectoral organization that ran mid-sized microfinance projects in Brazzaville and Pointe Noir.  Through this role, she built relationships with more than 200 local churches, and HOPE Congo has already started working with some of these same churches.  When these projects ran out of financing, Loveline was without a full time job for 2 years.  "While I was searching for a job, something told me that working in an office was no good for me.  It's not right for me to stay in the same place all day, doing typing, working with papers – no!  I need to be in the field with the people."
Eventually, she heard about HOPE Congo.  On three separate occasions, friends connected her to Simeon, HOPE Congo's Managing Director.  She accompanied delegates from HOPE's program in the neighboring Democratic Republic of Congo when they visited Brazzaville to analyze the possibility of launching an MFI here.  She joined the HOPE Congo team in 2009.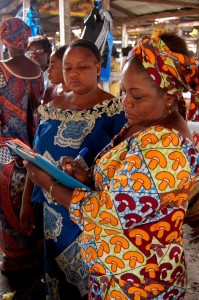 When asked what she likes about her work, she responds, "I love the level of professionalism we have here – things are structured well.  I like the quality of the work we have – we know where to begin and where to end.  For me, being a part of microfinance is my passion. You can meet someone in the beginning, and he might have nothing at all, but you give him a loan, and after one year, he can have a good life and a future because of your help."  She adds, "Counseling is also part of what we do.  We meet clients in their homes, at their businesses, and we see them often so we get close.  We get to know the family, and whatever the problem – the kids are sick, the marriage is in trouble – the client can talk through it with you, ask you to pray with him, and try to resolve it with you because he trusts you…I need to help transform the lives of the people."
I'm so thankful God has assembled passionate, capable staffers like Loveline to lead HOPE Congo through these first key months!