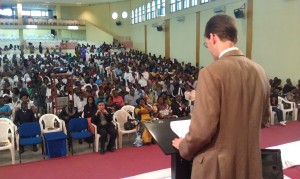 Dave Wasik, HOPE's vice president of operations, recently had the privilege of preaching at Rehoboth Church in Brazzaville, Republic of Congo. The following passage was excerpted from his sermon.
John 15:1-8
1 "I am the true vine, and my Father is the gardener. 2 He cuts off every branch in me that bears no fruit, while every branch that does bear fruit he prunes so that it will be even more fruitful. 3 You are already clean because of the word I have spoken to you. 4 Remain in me, as I also remain in you. No branch can bear fruit by itself; it must remain in the vine. Neither can you bear fruit unless you remain in me. 5 "I am the vine; you are the branches. If you remain in me and I in you, you will bear much fruit; apart from me you can do nothing. 6 If you do not remain in me, you are like a branch that is thrown away and withers; such branches are picked up, thrown into the fire and burned. 7 If you remain in me and my words remain in you, ask whatever you wish, and it will be done for you. 8 This is to my Father's glory, that you bear much fruit, showing yourselves to be my disciples.
What are the parts of our lives that distract us from God? What are the idols in our lives that prevent us from giving our Savior our full attention? Do we have relationships in our lives that pull us away from God, rather than bringing us closer? I know I have some – my television, money, possessions like clothes and computers. This is a sinful tendency in my own life – I am so surrounded by "things" that I sometimes miss God's voice in my life.
As C.S. Lewis, the British author and theologian said, "He who has God plus many things has nothing more than he who has God alone." This passage in John makes it clear – without God we have nothing, but with God we have everything. We cannot exist without God. We must have the faith to act boldly in God's name. We must embrace God's voice, through prayer, Scripture, and the fellowship of fellow Christians. We must turn away from other voices, even if our friends don't understand, even if it makes us uncomfortable, even if it means putting ourselves at risk.
I just spent the last few days at HOPE Democratic Republic of Congo, our microfinance institution in Kinshasa. I visited several groups of our microfinance clients, and got to see repayment of their loans, learned more about their small businesses, and prayed and worshipped with the clients. I heard about their dreams, and how grateful they were for what God has given them. And the fellowship between the group members warmed my heart. They sang together, they prayed together, they support each other through difficult times.
I will never forget their fellowship, their solidarity, and their deep love for their fellow group members and for God. We were helping them financially, but they inspired me spiritually. We cannot think of ourselves as rich and others as poor. If the basis of poverty is these broken relationships with God, ourselves, other people, and with God's creation, then we are all poor.
We are all sinners. We all deal with our own sort of poverty, material or spiritual or both. Only the grace that comes from accepting Jesus Christ as our Savior can rescue us from this poverty. In fact, our Savior commands us to help those less fortunate. What will we do to help those in need? They are right outside our door.