When her loan officer asks for volunteers to share the impact of Urwego Opportunity Bank, HOPE's partner in Rwanda, on their lives, Francoise Ingabire is the first to her feet. In front of an audience of over 40 community bank members, a few Urwego leaders, two foreign visitors, and a couple of wandering chickens, she shares the basic premise of her story. And as though she just can't help herself, she takes advantage of the opportunity to preach: "I encourage you to pray for your businesses," she instructs the Christian and Muslim members of her community bank alike. "When you invite God in, He makes ways for you to succeed in business."
Francoise invites us to see her business, a 25-minute drive from Urwego's office, she says. "It will be at least double that," our interpreter warns of the Rwandan concept of time. We pile four deep into the backseat of a white pickup truck. Over a bumpy red-dirt road, Francoise's story spills out in increasing detail over the next 50 minutes.
Prior to the 1994 genocide, she and her husband had been well-off, owning a truck and a minibus, which her husband drove professionally. But the genocide claimed both vehicles—as well as every male member of Francoise's husband's family. Their livelihood and much of their family destroyed, Francoise and her husband, newlyweds at the time, faced the difficult challenge of starting over.
Six years and two children later, Francoise was in despair. With her husband unable to work after developing chronic ulcers and their farming efforts thwarted by drought, the family had just two pounds of maize flour left to eat. Francoise went to a prayer room, and there she pleaded with God to provide for her family. She heard His reassurance that He would meet their needs. When she returned home, she found a bunch of plantains in front of her home.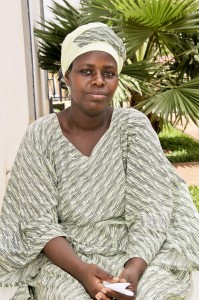 The plantains provided not only much-needed food but also confirmation of a way forward: Francoise had been considering a small loan from Urwego to sell plantains, and the very next day she applied for and was granted $25. She bought several bunches of plantains and, on her first day in business, earned $4 and had some plantains left over for her family. The next two days yielded similar results, and her husband was astounded. "This is unbelievable!" he said. "How can you earn this profit and still bring home all these plantains?" Seeing her success, he joined her in business.
Together the couple rented a truck and filled it with plantains, which they transported from their small town of Rwamagana to Kigali, Rwanda's capital city. There they sold the entire lot, earning a profit of $50. Larger loans helped them make two trips to Kigali a day, doubling their profit.
Things began to change for the family. They built their own home, had more children, and began to leave poverty behind. But then crisis struck again when they became victims of theft. Unsure how to proceed, Francoise put her business growth on hold and stopped taking loans from Urwego for the next couple of years.
As the sole male genocide survivor in his family, Francoise's husband had inherited 18 acres of land. With each passing harvest season, it weighed heavily on Francoise's heart that this fertile land, on which her husband's family had been killed, lay fallow. Her family couldn't cultivate 18 acres alone, and she had no money to hire farm hands, but she remembered Urwego and the good relationship she had with them. She sought another loan, bought a cow, and began to farm the land with the help of hired workers. Initial success prompted the couple to buy an additional 12 acres, part of the family's original homestead that had been lost to land redistribution following the genocide. Today their fields yield maize and enough bananas and plantains to supply two restaurants in town. Francoise employs six permanent workers and four seasonal workers, and all of her school-aged children are attending school. "I can tell you that life is much, much better now," she says.
As she stands on a beautiful plot of land amid cows, maize, and Rwanda's rolling hills, all Francoise surveys is a testament to God's provision. Though she was once hesitant about sharing her story, she says that God has given her the courage to speak openly of His goodness in her life. "Today people have a hard time believing that I was ever in poverty!" she rejoices.
Read a first-time visitor's reflections on a recent trip to Rwanda at www.hopeinternational.org/rwandastories.