Thirty-six-year-old Guerrier Gulma sounds like he could work for Esperanza International, HOPE's partner in Haiti, when he says, "Creating employment is always a good thing for the community." Since he began receiving small business loans and basic business training from Esperanza less than two years ago, Guerrier has already created two jobs through his printing and photocopy shop in Trou-du-Nord, Haiti.
Guerrier's business, La Reference Multiservice, fills a need in Trou-du-Nord, with the next nearest photocopy shop 30 minutes away in Cap Haitien. His busy shop reflects customers' gratitude for the availability of this service, and Guerrier's relations with customers have only grown stronger through the biblically based trainings his loan offer provided on the importance of honesty, integrity, and respect for others in business.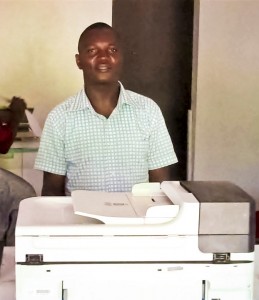 In addition to providing jobs, Guerrier used his loans to expand his shop's inventory. With an initial loan of $200, Guerrier bought a new printer. An additional loan of $250 enabled him to expand his stock of paper and begin selling related computer accessories like CDs and USB drives, buying in bulk to get better prices. He's also been able to maintain and fuel a generator, keeping his business operational through frequent power outages.
The profits from La Reference have given Guerrier something he never had before: margin. In the past, if a machine needed repairs, Guerrier couldn't always afford them, and his business was significantly hindered. Now he has extra funds set aside to help him deal with repairs or other unexpected challenges. His profits have also enabled Guerrier to eat better and purchase needed medications. He says he has noticed a significant improvement in his health. He has also been able to buy nicer clothing, which has built his confidence.
With growing confidence, Guerrier is dreaming big dreams. He'd like to open an internet café in Trou-du-Nord: the first of its kind. He also hopes to expand his photocopy business to other towns in northeastern Haiti that lack these services. "With Esperanza we have come a long way," he says. "But we have not arrived yet. I will keep working with Esperanza until we arrive where we want to be."