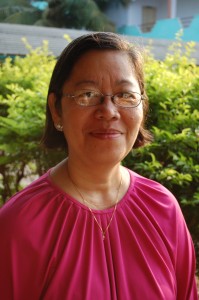 Or "expert," I should say. Malu Garcia is at the center of HOPE's expertise on savings models that can alleviate poverty for the poorest of the poor. She specializes in training and equipping local staff who will be directly training savings groups, and she's been traveling through Asia with me, assessing and providing additional training for our savings partners here. It's truly a joy to serve alongside her. Here are a few more details about Malu:
• Malu has been working with savings programs since 2001 in conjunction with the Chalmers Center for Economic Development and Food for the Hungry. She defines training as "multiplying yourself in the lives of others."
• Malu first joined HOPE's team in October 2007 when she moved to Rwanda to help launch HOPE's first church-based savings program with the Anglican Church. She traveled to each of Rwanda's dioceses to promote the savings program, trained national coordinators, and built a foundation for a strong relationship with the national church. Today, the program is nearly 100,000 savers strong.
• She also specializes in curriculum development and adult education. She's skilled at building partnerships across different cultures.
• Malu is gentle, thorough, a great listener, dedicated to prayer, and passionate about helping people master information and feel empowered to fight poverty on their own.
• She's the wife of a pastor and mother of three.
•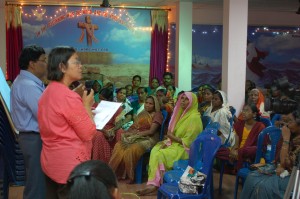 I've enjoyed watching her put different elements of savings into the cultural context of her listeners. For example, yesterday, when explaining the concepts of financial inputs and outputs, she didn't ask, "What are income sources for savings groups?" She first asked, "What are the ingredients that go into chicken curry? Many things! But at the end of the day, you get one thing: chicken curry."
• Malu on why we promote savings: "Savings groups restore dignity for the poor—it helps them see themselves as people who are not beholden to handouts when they're able to save for tuition for kids. It makes them feel good to know that they're capable of providing. They don't need to rely on someone else. It increases self-esteem and restores them as image bearers of God. That's the good news I want to tell everyone—that savings can restore our relationships with God, with self, with others, and with creation in a way that shows God's love. … Savings is important because it's a true response to the needs of the poorest of the poor. … Savings is really about empowerment. … that's what God wants us to do: to make people grow and bloom."