by Alisa Hoober, Recruitment and Retention Manager
Earlier this year, I had the opportunity to travel to the Dominican Republic to visit HOPE's local partner, Esperanza International, and hear clients tell their stories. Early one morning, we drove down a dirt path along the Rio Chavon, which separates plush villas on one side of the river and the poorest of the poor on the other side, to the village of Boca de Chavon within the region of La Romana. We were there to visit a group of 10 women who have named their group "The Power of Israel."
We quietly observed the group's loan meeting, watching the 5W's (welcome, worship, Word, work, wrap-up) in action, and admired the leadership of the Esperanza staff member, Vladimir. When the meeting was over, we had an opportunity to meet the women and hear about their businesses. Our group was eager to learn about why they joined the group and what made their businesses successful.
We asked our translator to please ask the group of women what has been the biggest difference in their lives since joining this group. The question was translated, and there were a variety of different answers from the group, including increased inventory for their business, improvements to their homes, and increased ability to feed their families. Then, Isabelle, one of the founding members of the group, stood up. She was a quiet women but received the attention of the group. They silenced as she spoke with conviction. She said:
Let us not forget the most important part: Jesus Christ. We are here to know Him and to make Him known. There are Christians and there are non-Christians in this group, but we have all had the opportunity to hear the Gospel from Esperanza at our meetings. Because we have heard the Gospel, there can now be no excuse for unbelievers. One day we will all need to give an account for what we have done; may we all be able to stand before Him without excuse.
The group was silent and took in this message. Isabelle's words were powerful—and timely. Just that morning, there was a death in the village. A 19-year-old boy had died of leukemia. The village was in mourning but also wondering why and looking for meaning. Isabelle was there to share the answer. She is not only an entrepreneur, running a colmado, or convenience store, in her village, but she is also sharing the hope of Jesus Christ and ministering to her community.
Isabelle specifically appreciated the fact that the Gospel is preached at meetings, as it ministers to non-believers and allows believers to strengthen their relationship with Christ and gives them a common platform from which to witness to their neighbors. It is founding members like Isabelle and loan officers who minister to groups and individuals—week in and week out—that are having a lasting impact. I am grateful for the opportunity to meet Isabelle, learn from her example, and be challenged by her love for Jesus Christ.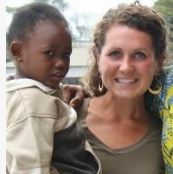 Alisa Hoober has worked at HOPE for over three years, currently serving as the recruitment and retention manager. She loves interacting with candidates and also enjoys the opportunity to visit the field and meet with clients. When not serving at HOPE, Alisa can be found baking or spending time with her husband, Clark.