by Phil Smith, Director of Savings and Credit Association Programs
When you think about it, in our common vernacular, we use the word "hands" in so many different ways to describe the everyday events of our lives.
Ownership or responsibility: "I'll leave it in your capable hands."
Busy schedule: "My hands are full."
Act of giving (sometimes with negative connotations): "We don't want to just give a hand out."
Protection from danger: "They didn't lay a hand on them."
Request for (or offer to) help "Could you give me a hand? I'll give you a hand."
Over the years, we've built up quite a vocabulary on our hands to communicate so much of, well, life! And looking to Scripture, there is the same—if not more—use of the word "hands" as a symbolic and literal descriptor of life. 
Prayer and blessing: "And he took the children in his arms, placed his hands on them and blessed them." (Mark 10:16)
Skills and labor: "Make the ephod of gold, and of blue, purple and scarlet yarn, and of finely twisted linen—the work of skilled hands." (Exodus 28:6)
Praise and worship: "Lift up your hands in the sanctuary and praise the Lord." (Psalm 134:2)
Work and leadership: "Diligent hands will rule." (Proverbs 12:24)
God's power in and through us: "Then Peter and John placed their hands on them, and they received the Holy Spirit."  (Acts 8:17)
And there are numerous other examples. The point is that the word "hands" is used to illustrate so much of what we have, what we do, and what we're called to do.
While asking the question "what's in your hands?" can be an encouragement, I have to admit that there are moments when I find the question to be overwhelming, even daunting. It is a weighty question, with so much responsibility, so much action attached to it. In those moments, there is a need to ask a different, foundational question: one that is at the heart of our humanity and at the heart of God's sovereignty. Without it, the question "what's in your hands?" is indeed daunting, if not empty. The question we must first ask: "What's in His hands?"
Perhaps in order to respond to God's calling to look at what's in our hands, we need to first reflect on what's in His hands:
All creation: "It is I who made the earth and created mankind on it. My own hands stretched out the heavens; I marshaled their starry hosts." (Isaiah 45:12)
Supreme authority, power, certainty in an uncertain world: "The Father loves the Son and has placed everything in his hands." (John 3:35)
Blessing: "Then people brought little children to Jesus for him to place his hands on them and pray for them." (Matthew 19:13)
Healing: "At sunset, the people brought to Jesus all who had various kinds of sickness, and laying His hands on each one, he healed them." (Luke 4:40)
Unwavering, unfailing love, and supreme sacrifice: "Look at my hands and my feet. It is I myself!" (Luke 24:39)
All we have and all we will ever need comes from the loving hands of our Father. He is not the Father of overwhelming burden and limited resource. No, He is the Father of creation, authority, blessing, healing, and unwavering, unfailing love. He gently and lovingly urges you and me to first open our hands and receive. And as we receive—our gifts, talents, and passions—we cannot help but respond joyfully, with hearts full, to His gentle and loving question: "My child, what's in your hands?"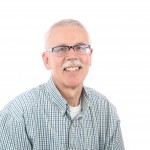 Phil joined HOPE in December 2012. He brings a wealth of knowledge from his six years at World Relief, where he served as Rwanda country director for many years before transitioning to vice president of operations for marketing and Church engagement. Phil is deeply committed to addressing Jesus' call to active engagement in serving the most vulnerable. He and his wife, Becca, have two sons, Sean and Iranzi, and reside in the Lancaster, PA, area.