by Alisa Hoober, Recruitment and Retention Manager
I used to think I was generous. Now I know I have a lot to learn.
I recently had an opportunity to visit HOPE's savings program in Malawi. We traveled a windy dirt road for several hours to visit a savings celebration in a small village. After meeting for a year and a half, today was the day they were to celebrate the end of their latest savings cycle and receive back the money they had saved. Today was a day to celebrate their hard work. And they were ready to celebrate! We were greeted with singing, dancing, and hugs.
I learned a few things about generosity that day.
There is a difference between giving our leftovers and giving our first fruits.
Shortly after we arrived, we were told that the group had prepared a lunch for us. This was unexpected, but we accepted this as an incredible act of hospitality. We were so grateful. We sat down to a feast of rice, beans, nsima, and chicken. We later learned that this village ate chicken every six months. And they chose to share with us—visitors that they didn't know. We enjoyed the meal and felt so blessed, knowing that this was an incredible gift we had been given.
This group gave from their first fruits, sharing their best with guests they hardly knew.
There is a difference between giving out of obligation and giving joyfully.
As the group meeting went on, members were called to the front to receive their savings. Most had saved the equivalent of $1 each week. There was an abundance of singing and dancing and music; this was a joyful time of celebration. After this, there was an opportunity for members to give a tithe to their group leader, who volunteered his time through the local church. Without hesitating, group members immediately gave back a portion of what they worked so hard to save.
There was no solemn passing of the plates, no guilt-ridden message of why we should give. There were bowls placed at the front of the room and members danced and sang their way to the front to fill the bowls to overflowing. For them, giving was joy in action.
There is a difference between giving from your wallet and giving from your heart.
What we saw that day was an attitude of generous living. This group was not only saving together and helping one another financially; they were also caring for one another in each aspect of life. They were sharing life together, caring for one another in good times and bad. They had purchased matching fabrics as a tangible way to say to the community: "We have each other's backs; we're on the same team."
I learned generosity isn't just a number in your budget. Generosity is so much more than writing a check. It is an attitude, an outlook. It is the way we care for others, how we view our time, and how we love those around us.
As we participated in this meeting, I thought about what I may have done with my own savings had I been a part of this group. Would I still have been willing to give? I'm afraid I would have held on tightly to my savings. I think I would have run to pay for school fees, to buy food, to repay debts—thinking only of my immediate needs.
But this group gave what they had because they knew that it wasn't theirs in the first place. In fact, they even named their group "We Have Received."
This group reminded me that living generously means living a life of gratitude and of trust. It reminded me that we have received the greatest gift and have so much to share with others.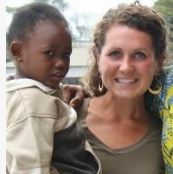 Alisa Hoober has worked at HOPE for over four years, currently serving as the recruitment and retention manager. She loves interacting with candidates and also enjoys the opportunity to visit the field and meet with clients. When not serving at HOPE, Alisa can be found baking or spending time with her husband, Clark.