Money is a tool, and when we keep our relationship with money private, it can easily become a second master, keeping us from living lives fully obedient to Jesus. In the West, where open conversations about money often feel off limits, rarely discussed even in accountability groups, this openness can be a real struggle.
But we see HOPE International clients doing this well. Right now, in each of the 16 countries where HOPE serves, clients are cultivating a culture of discussing money openly together. Over 900,000 hardworking men and women gather regularly in small groups to pray, worship, save or lend together, and deepen friendships.
HOPE-network clients show us two benefits of sharing openly about money.
Friends help us see blind spots. By opening our financial and business lives to each other, we gain perspective on weaknesses we previously couldn't recognize in ourselves. Just as group members help one another make better decisions with money, we too could benefit from the wise counsel of friends who know the reality of our financial situation.
Money is put in its rightful place. Jesus says in Matthew 6:24, "You cannot serve both God and money." Community helps us keep our priorities in order. Groups in the HOPE network start meetings with worship and prayer, modeling community's power to help us live into the joy of walking with Christ as our Lord and money as a tool for honoring Him.
HOPE-network clients also model a few ground rules for building this kind of financial transparency:
Build trust. To gain the full benefits of openness, it needs to be practiced in the context of trusting relationships. Without trust, candid sharing can lead to gossip, misunderstanding, and jealousy.
Acknowledge God's ultimate ownership. Clients spend time praying and worshipping together as they discuss personal finances. It's important to have a shared understanding that all possessions are God's and we're simply managers.
Love one another. Even if we trust our friends and agree on God's ownership of all things, it's still unwise to openly discuss finances if we're not rooting for one another's success. When sharing openly, do so in love, desiring the best for others.
Following the example of HOPE-network clients, discussing finances more openly leads us to deeper relationships with each other. When we pursue these benefits within the confines of trusting, loving relationships with a shared understanding of God's ultimate ownership, we more easily taste the joy of following and obeying Christ together.
Looking for a way to build this kind of community? Invite your friends to meet quarterly to discuss stewardship topics like how your family modeled financial management or what Scripture says about money. Watch What's in your Hands or Generous Giving videos. You can also host or attend a Journey of Generosity with your friends.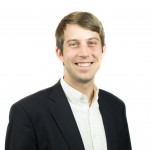 Blake joined HOPE as a regional representative in Houston, TX, in 2016. A graduate of the University of Texas at Austin, Blake is married to Meagan, and they have a son, Rivers. In addition to his work at HOPE, Blake enjoys the Houston food scene, running, playing the drums, and writing about meaningful progress toward values-driven productivity.