When families are trapped in the vicious cycle of poverty, life becomes about survival. Focused on providing for their daily needs, individuals have little mental or physical bandwidth to serve those around them.
At HOPE International, we dream of seeing HOPE-network clients empowered to be agents of transformation in their own communities. These five clients exemplify what it means to love your neighbor.
Jimmy Maduko, primary school owner (HOPE Malawi)
After Jimmy's mother died, he no longer had money for school fees. Understanding the value of education, Jimmy scraped together enough funds each year to send himself to school. As he grew older, he saw how lack of education stymied progress in his community of Makawa, Malawi—and so he opened a school in Makawa using loans from his savings group. He dreams of expanding his school to serve more grades, as well as owning his own building someday instead of renting.
Therese Mukabera, brickmaker (Urwego Bank, Rwanda)
Since getting her first loan from Urwego Bank in 1997, Therese began her brickmaking business, which has since grown to employ 57 people. As her business has grown through loans from Urwego Bank, HOPE's microfinance institution in Rwanda, Therese's focus has shifted to serving the community around her. Over the past five years, Therese has provided health insurance for 150 people in her community, educating them about the importance of insurance until they're willing and able to pay for it themselves. She's adopted two orphans and supports two elderly neighbors. "I am better off now financially," she says. "I praise God we are able to assist others."
Octavian Cismas, factory owner (ROMCOM, Romania)
In a country where many people move away in search of more employment opportunities, Octavian is passionate about providing jobs, particularly to those who struggle to find work. Even if applicants have no experience, he patiently trains them in the skills needed for the role. With loans from ROMCOM, HOPE's partner in Romania, Octavian has been able to grow his business to employ 13 people.
Desir Mytril, pastor, electrician, and owner of a homebuilding equipment business (HOPE Haiti)
As a bi-vocational pastor, Desir believes the savings group program that his church facilitates has the potential to change his community of Cabaret, Haiti. When he heard about the savings group program, Desir was excited about how the groups could change his church's outlook on their poverty. "The first thing is to help the person understand that he is able to do things," Desir says. He dreams of growing his business to create more jobs in his community.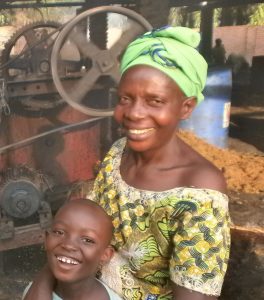 Caritas Ntahonshimikiye, palm oil production business owner, (Turame Community Finance, Burundi)
In Caritas' community in Rumonge, Burundi, there's a large population of Batwa, an ethnic minority group that has historically faced discrimination and abuse. With limited access to land ownership and education, the Batwa often live in extreme poverty. As her own business has grown through loans from Turame Community Finance, HOPE's microfinance institution in Burundi, Caritas was moved to respond to the need of the Batwa in her community. Seeing that they lacked a specific trade, Caritas used her business experience to start coaching a group of 16 Batwa on palm oil production.
Want to learn more about how HOPE helps families flourish? This video explains how HOPE serves hard-working individuals like Jimmy, Therese, Octavian, Desir, and Caritas.