by Luke Harbaugh, HOPE Church Representative
It's tempting to idealize a life of isolation. The fiction of total independence, full autonomy, and little to no social accountability can sound appealing. However, Genesis 2:18 reminds us "it is not good for a man to be alone," and we also learn from Genesis that God created us to function as social creatures, living in relationship with Him and in community with others. When we embrace a life of isolation, we are denying a key piece of our design as humans, but when we embrace community, we come alive more fully.
I got to personally witness the healing power of community when I visited Ishaan and his sister Darsha in South Asia last year.* Ishaan used to live a pretty normal life—he was funny, kind, and well-liked by those who knew him. But one day he started to get sick—and this sickness went beyond physical symptoms. His personality seemed to change.
He stopped eating, and he would barely drink. There were also violent outbursts and anger. Where he once used kind words, there was now profanity and insults. He would cry out randomly, and he would snarl and flail wildly. Completely out of character, Ishaan also stopped working.
Seeking wisdom from the faith predominant in her culture, Darsha visited a local spiritual leader, and he explained that a spirit had taken up residence in Ishaan's body. And to free him, they had to find out what that spirit wanted. So Darsha spent significant amounts of money traveling to temples, paying for more advice, and making offerings. But nothing seemed to work.
Next, Darsha turned to doctors—a string of them. Each treated Ishaan for different things with costly prescriptions. Sleeping pills seemed to help most, causing Ishaan to sleep 18 hours a day, but in his waking hours, the erratic behavior continued.
Ishaan's behavior alienated their whole family from their community. Friends would no longer come visit, doctors and spiritual leaders refused to see them without payment, and now, not only were they struggling financially, and not only were they losing hope, but they also felt alone.
Ultimately, Ishaan's disease resulted in more than just physical challenges. It resulted in isolation, disconnection, and despair for their family.
The power of an invitation
In the same neighborhood where Ishaan and Darsha lived, a savings group was meeting. With training from HOPE, a local church had organized a group of people and taught them how to save money regularly together. In this particular group, one woman used her savings to pay for funeral expenses, another started a business breeding goats, and another was slowly paying down a large debt to her landlord.
Before Ishaan ever got sick, the women in this savings group invited Darsha to join. Because they were Christians, Darsha said no. But now, after spending all of her money on offerings and doctors, and with her family facing more and more isolation, she decided to say yes.
Darsha shared the story of Ishaan's struggle at her first group meeting. Her fellow group members said, "If you bring him here, we believe Jesus can heal him." So she brought Ishaan to the group, and the pastor prayed over him in Jesus' name.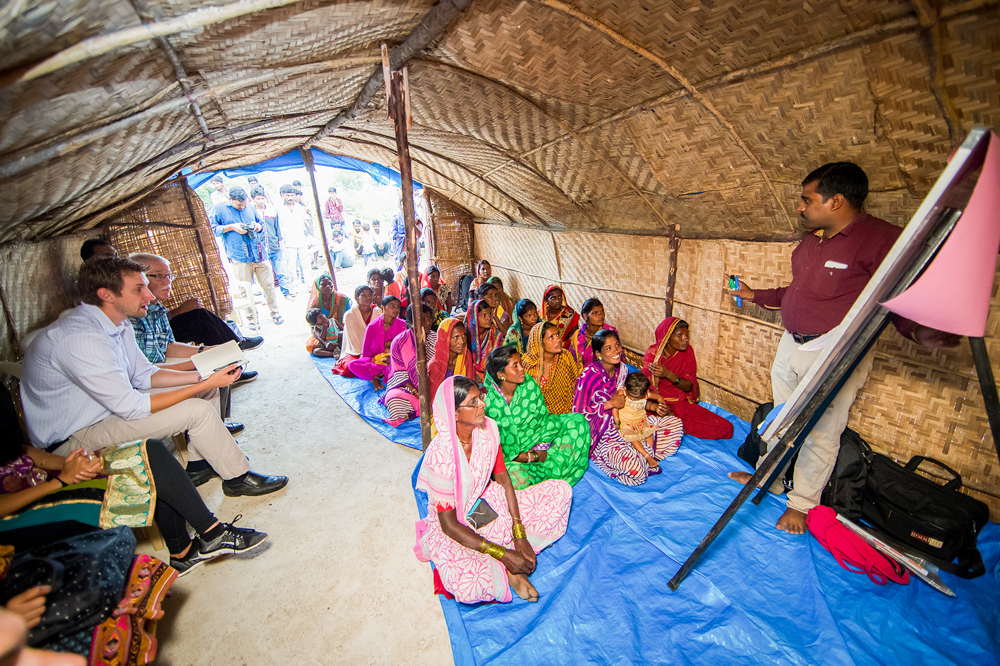 Immediately, Ishaan was changed. His comatose demeanor lifted, and he was suddenly himself again. The first thing he did was ask for something to quench his thirst.
And here's the best part—through this experience, Ishaan, his sister, and his sister's kids have become followers of Christ.
Poverty isn't just financial
All of this happened because the local church had an attractive economic, social, and spiritual opportunity that effectively helped people in its community.
When people think about HOPE, they often think about economics. And our work does focus extensively on savings and access to loans. But one of the great secrets of poverty is that it isolates people. And the ache of disconnection can be even more unbearable than any material need.
And so we've found that one of the great remedies to poverty is to bring people into relationships—a relationship with Jesus and relationship with one another.
That's why there's a strong social component to what we do. Before someone takes a loan from HOPE or begins saving, they join a group. So while these men and women are building savings accounts and businesses, they're also fighting poverty by building community: a place to share, contribute, learn, grow, and be known by others.
It's impossible to underestimate the value of being loved, of feeling like you belong. For those who have had so much stolen from them through their painful life experiences, this sense of belonging is key to their recovery.
The darkness that grips our world often thrives on isolation, but Christ-centered community restores dignity and shines a light into the darkest places.
Want to know more about what takes place during a savings group meeting? Read this step-by-step account of a meeting in the Philippines.
Luke Harbaugh has served with HOPE since 2015. Luke is a former pastor and a graduate of Millersville University and Duke University Divinity School. He currently lives in Mountville, PA, and has a passion for preaching, missions, Duke basketball, and playing golf.
*Names and locations have been changed for security