In 2009, a group of women in Kirehe, Rwanda, began meeting together. All of them had lost their husbands, but the reason behind their husbands' absence couldn't have been more vastly different. Some had lost their husbands as victims of the Rwandan genocide 15 years earlier; others had husbands serving prison sentences as perpetrators of the genocide's violence. At a time when great fear and hatred existed between ethnic groups, the women's act of gathering together across ethnic lines was revolutionary.
When their church introduced the savings group program through HOPE International in 2011, the women decided to start saving together, naming their group Abavandimwe, an affectionate Kinyarwandan term for "siblings."
As their livelihoods began to improve, they decided to go into business together. Using their group savings, they purchased sewing machines to sew kitenge fabric into backpacks, hats, carpets, and dresses. They also created beaded pens and necklaces and purchased plastic chairs to rent to community members for large gatherings.
Gradually, the wounds left by the genocide have begun to heal. And that healing is extending to the next generation. Collectively, group members have adopted more than 70 children, many of whom were orphaned in the genocide.
Meet Anne Marie, Deborah, and Frida, three of the 38 members of the group: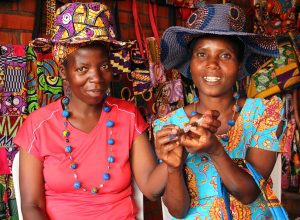 Anne Marie Kampire
Anne Marie (on right) and her friend pose with necklaces, a beaded pen, and hats they helped craft as part of their savings group's business. In the days of the genocide, Anne Marie found a child who looked to be about 2 years old alone along a road. Unable to locate the parents, she brought the child to her own home. The parents were never found, so Anne Marie raised Ignas, now 26, as her own.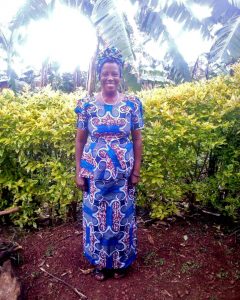 Deborah Ikizanye
Deborah says that a mix of curiosity and skepticism led her to check out Abavandimwe. She wanted to see for herself whether what she was hearing could be possibly true: that women in the church were finding a way to be one in Christ again. Eventually, Deborah joined as a member, but it wasn't until the reading of 2 Corinthians 5:17 during a group meeting that she let her walls down. As the words of the passage washed over her—"Therefore, if anyone is in Christ, the new creation has come: The old has gone, the new is here!"—she burst into tears. She confessed that she'd not been able to fully forgive and think of her group members as "new creations" in Christ. At that moment, she decided to give her life to the Lord. Today, she says that she's happy, having known real forgiveness.
Frida Gahongayire
Frida, president of Abavandimwe, explains that, prior to the savings group, members suffered social and material strains. Most group members, she recalls, didn't have funds for health insurance or enough food to feed their children even one meal every day. Today, however, Frida says that has all changed. Members of the group now pay the annual health insurance cost of about $7 USD per family member. Members also celebrate new abundance, knowing that that their families have enough for all three meals a day—and that, says Frida, "they could have even more, if they wanted."
To engage with this and other stories we're celebrating from the last year, read HOPE International's 2017 Annual Report.