Around the world, we see creative, industrious men and women committed to providing for their families and serving their communities through meaningful work. In this year's gift catalog, we've included some of the tools HOPE International-network clients use in some of the most common jobs in the developing world: animal rearing, farming, tailoring, and store ownership. In this series, we'll dive into some of the challenges faced by those in that profession.
If you've ever visited a developing country, you may have been surprised to see someone wearing a t-shirt or sweatshirt representing a school, event, or church you were familiar with. And while this may seem like a serendipitous coincidence, it's actually indicative of a larger global trend—the influx of secondhand clothing into developing countries.
While sending donated clothing to lower-income countries may sound like a good idea, it's had a devastating effect on local garment production in many countries. Kenya, for example, once had half a million workers in its garment industry; today, that number has fallen to an estimated 20,000. In Mozambique, donated clothing is called "clothing of calamity" for the impact it has on the country's clothing production. Several countries in East Africa are in the process of banning donated clothes, in favor of growing local textile industries.
And that's why HOPE invests in tailors.
Without a mass-produced clothing industry, communities rely on tailors' skills. Many HOPE-network clients make clothes professionally, using brightly patterned fabrics to produce dresses, tops, and more.
When Marthe Usanase (pictured) learned of HOPE Rwanda savings groups through her local church, she had the skills she needed to launch a tailoring business—she'd learned the craft at a local tailoring school—but her outdated sewing machine made it difficult for her to progress. With a loan of 30,000 Rwandan francs (the equivalent of $33) from her group's accumulated savings, she was able to buy an updated sewing machine to make more sophisticated designs more quickly.
Marthe dreams of buying a more advanced sewing machine that would enable her to make more complex designs, as well as starting a tailoring school of her own one day—empowering even more tailors to grow Rwanda's local garment industry.
Join hands with tailors like Marthe around the world through a Gift of HOPE this Christmas season.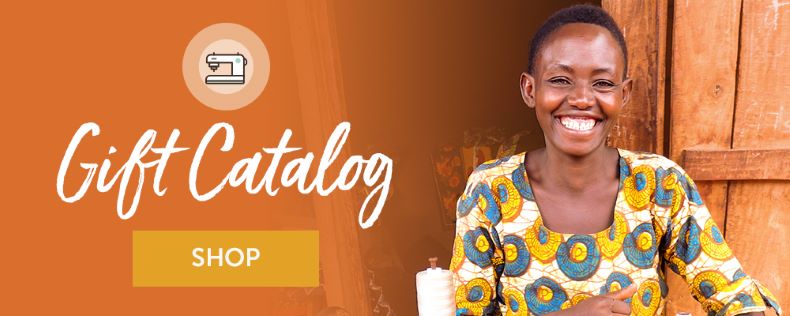 Research from The New York Times.
Header image: Pelouse, savings group member in Burundi