At HOPE International, we're constantly encouraged by the ways our clients are growing spiritually, emotionally, and relationally as they steward the material resources God has given them.
We're seeing so many HOPE-network clients use the resources, talents, and opportunities God has given them to extend generosity outward. These families all over the world are extending Kingdom work far beyond the HOPE network, being Jesus' hands and feet in their communities by meeting tangible needs.
These men and women, many who still struggle with the challenges of poverty, inspire us with their generosity and hearts to serve others with whatever they have in their hands.
After Zhang's family loaned him money to start a business, he started buying and selling pigs in order to repay them. But with little business training, he struggled to stay financially stable. Partnering with HOPE's local program, Zhang used loans to started breeding his own pigs and hiring employees, this time receiving training on how to effectively grow his business. Feeling blessed by his success, he doesn't hesitate to assist others in his community who might also need business assistance. "Through business, we're changing our area. Now it's time for us to also change [other villages], spiritually and economically."
Ana Maria Criznic, Romania
Ana Maria sells tailored items like clothing and pillows, which she takes great pride in. "Since I was a kid I was interested in sewing. My neighbor had a sewing machine, and she would teach me." For a time, however, it was hard to get the capital she needed to open a store where she could bring in more clients—multiple banks denied her applications. But ROMCOM, HOPE's microfinance partner in Romania, believed in her, giving her the loans she needed to open her business. Even in the midst of running a business, Ana Maria makes time to invest in other women—offering the assistance she needed herself. "I had a chance to teach other women during the weekend how to sew so they can learn a new skill," she says. "I love what I am doing."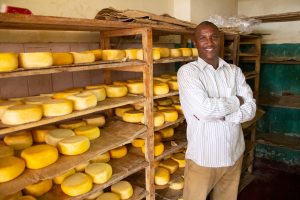 Adelard Ndayishimiye, Burundi
Adelard Ndayishimiye was in the business of selling cheese, but he struggled to keep his profits because of the high interest rates loan sharks were charging him. With loans and support from Turame, HOPE's microfinance bank in Burundi, he could finally buy more supplies and keep more of his profits after paying back his loan. Feeling blessed, Adelard doesn't hold tight to what he has been given, but gives transport, financial aid, and food to his neighbors when they are struggling. He even pays for his compound's electricity when it goes out. "I wouldn't leave someone in the dark when I have been blessed to bless others."
In Scripture, when God's people approach Him with their dreams and desires, He sometimes answers with an unexpected question: "What do you have in your hands?" In this video, learn how God invites His people, both in Scripture and today around the world, to play an active role in restoring brokenness.
*Name and location changed for security