Around the world, we see creative, industrious men and women committed to providing for their families and serving their communities through meaningful work. In this year's gift catalog, we've included some of the tools HOPE International-network clients use in some of the most common jobs in the developing world: animal rearing, farming, tailoring, and store ownership. In this series, we'll dive into some of the challenges faced by those in that profession.
In the Dominican Republic, they're called colmados. In the Philippines, they're called sari sari stores. In Paraguay, they're called dispensas. In Rwanda, they're called boutiques. No matter the name, the corner store is a staple of life in developing countries.
Ubiquitous on many a corner in many a community, small convenience stores sell household essentials like flour, soap, cooking oil, and more. For families living in more rural areas, a corner store allows them to access the items that their households need without spending excess time traveling to larger cities. And since many families in developing countries don't own a car, their local colmado or sari sari store saves them the expense of taking public transit.
But beyond the practical value of a corner store, colmados function as the social epicenter of the community, providing space for community members to encounter one another, sharing a snack or soda together.
Since many corner stores are attached to the homes of their owners, parents are able to simultaneously work and care for their children, thereby avoiding paying for costly child care. And when corner store owners can access a loan through a microfinance institution or savings group, they can expand their inventory, offering a wider variety of goods to their community and increasing their family's income.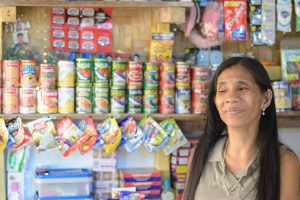 For Zedhae Narisma in the Philippines, opening a sari sari store through a loan from the Center for Community Transformation (CCT), HOPE's local partner in the Philippines, provided her family with a consistent income that stabilized their financial situation.
With an additional loan, Zedhae purchased a refrigerator, allowing her to sell ice and cold soft drinks. She dreams of purchasing a plot of land near her home where she can build a stand-alone store.
Where Zedhae once struggled to even provide lunch money for her children to take to school, she is now supporting her children as they attend college. As she's been discipled by a pastor of one of CCT's church partners, Zedhae has grown in her faith and is now actively serving her community, seeking opportunities to find employment for families that live off of what they can scavenge from dumpsters.
"Before, I didn't have money for the needs of my children," Zedhae remembers. "I am happy now, and I am thankful to God through CCT." 
Join hands with shop owners around the world like Zedhae through a Gift of HOPE this Christmas season.
Header image: Victor, a client of HOPE's microfinance partner, Esperanza International, in the Dominican Republic