by Aspen Pflughoeft, HOPE Trips participant
How do you make your senior year of high school memorable? Perhaps an epic prank day? Senior skip day? Well, I was able to take a different approach: a HOPE trip to meet savings groups in Comas, Peru (pictured above), with my family. When we departed, I had two weeks of classes left. But my dad, who had been on a HOPE trip the previous fall, recognized the immense value in exposing me and my sisters to different languages and communities. Through ten days in Peru, I learned incredible lessons that, a year and a half later, have changed the way I live.
Lesson 1: Three years of Spanish gives you the communication abilities of a 7 year old.
And I survived. Yes, when we first arrived, I did struggle a bit, but the more I fumbled through simple sentences and awkward verb conjugation, the easier Spanish became. Our host's daughter, Arletta, was 7 years old, and I had the most complete conversations of my entire trip with her. Speaking Spanish challenged me, but, in return, the common language encouraged deeper connections.
Lesson 2: Mother's Day is more important than I realized.
We happened to be in Peru during Dia de las Madres, or Mother's Day, and we quickly realized that, in Peru, this day is a serious holiday. On every corner, vendors sold chocolates, roses, and stuffed animals holding hearts with "Te quiero, Mama!" written on them. Through this celebration, my understanding of the challenging — albeit deeply appreciated — role of women in Peruvian society increased in nuance. The festivities challenged me to think about if and how I recognize and honor my mother and other important women in my life.
Lesson 3: Familial bonds strengthen in the unfamiliar
I expected to learn about Peru—and I did—but in the process, I learned more about my family than I anticipated. I learned that my Dad wants us to have experiences he never had, that my mom wants us to discover our dreams even if they lead us around the world, and that my younger sisters don't need a shared language to make friends. By forcing us collectively out of our comfort zone, my family and I relied on each other for more than my translations, but also for emotional adjustment.
Lesson 4: Generosity is a mindset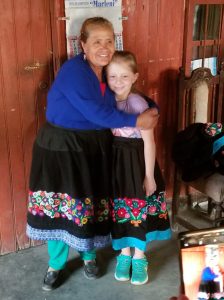 One evening, we visited savings group members who lived in los serros, the hills surrounding Comas. Living conditions in los serros mirror a low-income country. Here, we met Lauralita (pictured with my sister), a petite grandmotherly lady who weaves intricate Peruvian skirts. Unable to read or write, Lauralita makes her living selling these skirts and has grown her business through the savings group. Her home is simple, with dirt-floors, a low ceiling, and a small perfectly cleaned table with two chairs. Even still, Laurelita offered us food when we entered, extending generosity to a group of people she had just met—it amazed me. Lauralita's generosity was not a one-time gesture, but a permeating mindset for every interaction with others.
This demonstration of generosity has stuck with me since I left Lauralita's home, considering my own mindset. Is my generosity interwoven into every action? Or is it isolated to moments of convenience? How might I be "Lauralita" to others? Yes, I may have left Peru long ago, but my experience in Peru has not left me.
Learn more about traveling with HOPE to see the impact of Christ-centered financial services first hand. Find upcoming trips.
Aspen Pflughoeft is an avid traveler, writer, advocate, and student. She is currently studying at University Minerva Schools at KGI, living around the world, and honing her passion for giving voices to the voiceless through writing.