Life in Haiti hasn't been easy for a long time. More than half the population lives on less than $2.40 a month, while wealth and power are concentrated in the hands of a select few. For the last several months, government corruption, fuel shortages, spiraling inflation, contaminated drinking water, and food scarcity have caused many Haitians to rise up in protest against a government that has been largely deaf to their cries. These protests are making international headlines.
While some are fighting for change, others are fleeing the country in search of better opportunities for their families. "In Haiti, many people dream of when it's time to leave the country," says Lesly Jules, HOPE Haiti country director (pictured left). Though the protests and uncertainty are affecting HOPE's savings group program—nearly 35 volunteers have left the country and fuel shortages have made visits to the church partners difficult—Lesly is adapting, but he isn't leaving. He shares:
In the midst of all this, the savings ministry still represents a beacon of hope for people that they can help themselves and other people in their community. Despite our struggles, saving groups members are still reaching out to help other people. They are grateful for how this ministry has changed their mindset from handout recipients to effective contributors in their communities. If it wasn't for this ministry, the reality of thousands of people in the countryside would be catastrophic.

That's why we are adapting our strategy to continue to support them the best we can. Even though it is not yet possible to visit them, we are in close contact with ministry leaders, coordinators, and volunteers in order for the ministry to continue. HOPE is shaping the culture to some extent, by bringing people to a point where they can believe in themselves. I am optimistic about the future. I am sure of this, that He who has started that good work will carry it on to completion until the day of Christ Jesus (Philippians 1:6).
Walter Suckau works closely with the HOPE Haiti staff in his role as director of savings group program risk management. He shares:
While I grieve about the political situation and what that means for all the people living in Haiti, I rejoice in how God is working through savings groups and the Church to shine a bright light. I think it is a way that God is saying, "Don't look towards the political systems in the world for solutions. Look to Me and what I'm doing through the Church."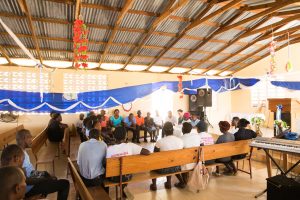 Please join us in praying for Lesly, his team, and HOPE Haiti's church partners, volunteers, and savings group members—as well as for all Haitians. Pray for safety amid protests, wisdom in adapting the savings program to meet Haiti's shifting on-the-ground reality, and hope for Haitians that a loving God hears and cares and answers their prayers.
At HOPE, we're fervent believers that prayer is the most important part of our work. We take God at His word that He hears our prayers (1 John 5:14). And we believe that as we bring our requests before our Father, He will move mountains. Sign up for our monthly prayer email to join us in our work in prayer.