In recent months, COVID-19 has severely disrupted economies and markets. In this climate, we're seeing executives from huge corporations—like Spotify, Whole Foods, Panera, and United Airlines—lead their companies to pivot, adapting their business model in ways that ensure short-term survival and create new avenues for future development.
At HOPE, we're seeing the same business savvy shown by execs of multi-million-dollar corporations carried out by the entrepreneurs and savings groups we serve around the world—but with fewer resources and more challenging circumstances. Here are a few stories of women and men in the HOPE network demonstrating their resilience, tenacity, and entrepreneurial innovation, as they pivot their businesses to adapt to the new economic landscape shaped by the coronavirus:

From savings group members to business partners
Corine, Zimbabwe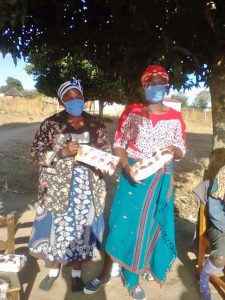 In Zimbabwe, a country already facing significant economic challenges, members from one savings group had experienced such disruption in their income that they were struggling to save. Corine, a church facilitator leading the group, says, "We quickly put our heads together and decided to start a bakery." Working together, the group started with the simple vision of baking fresh bread to sell to the community, but the new initiative has taken off. "Our plan was that it would enable us to continue to save," Corine explains, "and now, it has even exceeded our expectations by also allowing us to use the income to fend for our families."

Upgrading operations and refocusing time
Success, Zimbabwe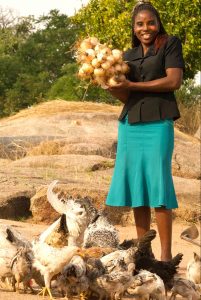 Success, who grows vegetables and raises free range chickens, says that her numbers have been lower since the pandemic hit. So, instead of maintaining the status quo, Success adjusted her operations, purchasing an incubator, installing a solar system, and moving her concentration toward expanding her farming work. She says, "I am never going back, even in this COVID-19 season. Things have proved challenging, because COVID-19 has affected most people's livelihoods and also the markets for our produce have dwindled—but I have not been deterred."

From hairdresser to mask maker
Irene, Paraguay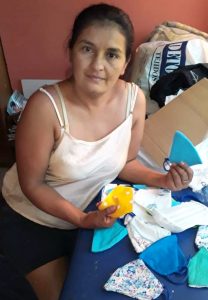 Irene normally dedicates herself to being a hairdresser and selling clothes in her neighborhood, but when Paraguay announced a full lockdown earlier this year, she began looking for a new way to generate an income. Noticing the increased demand for face masks, she contacted a local textile business and began to oversee production of masks. She sold the creative, yet effective face masks in her neighborhood and through her network of contacts on social media. Diaconía, HOPE's partner in Paraguay, also connected Irene with several companies, which submitted corporate orders for the masks she'd helped create. (Read about a US-based entrepreneur and HOPE supporter who did something similar.)

Savings groups in Haiti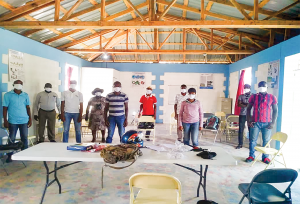 In Haiti, while some savings groups continued to meet together outdoors for prayer and encouragement, many members were unable to save. Without the ability to work due to lockdowns, money that would have been saved instead had to be spent meeting immediate needs. To meet the need for face masks, several savings groups came together to produce and sell masks. Savings group facilitators who train and support groups were among their first clients, purchasing masks so they could safely visit and encourage groups. The income earned from thousands of mask sales has helped savings group members protect their communities even while providing for their families and continuing to save toward their goals.

Your donation will support entrepreneurs around the world as they adapt their businesses to provide for their families and serve their communities.
(For a limited time, every first-time gift* to HOPE or increases over your 2019 donations will be doubled—up to $600,000.)
*Also includes first gifts since December 31, 2018.