In honor of International Women's Day, we celebrate the 81 percent of clients in HOPE's network who are women—mothers, sisters, wives, daughters, and entrepreneurs making a difference in their families and communities.
17-year-old Jenny is in her last year of high school in the Philippines. Her father's work as a carpenter doesn't provide a regular income, but her mother recently joined a savings group with HOPE's partner, the Center for Community Transformation. Jenny was so excited by her mom's example that she started a savings group for teenagers. She's hoping to use her savings to help pay for college, where she'd like to study special education.
A skilled seamstress, Laure has taken out four loans from HOPE Congo, using them to expand her tailoring shop's inventory to offer clients a greater selection of beads, lace, and patterns. A single mother caring for four children, she used to have trouble providing regular meals. Now, they have enough to eat, and she's able to pay their school fees. Laure dreams of starting a school to teach young girls and single mothers how to sew, and she's already started training two young women.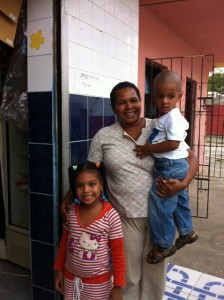 Maria took out her first loan from Esperanza, HOPE's partner in the Dominican Republic, five years ago, but she's been baking cakes for 20 years. Realizing that customers buying wedding and birthday cakes usually need other supplies as well, she took out a loan to open a party store. Now, Maria not only bakes delicious cakes, she also sells decorations, balloons, streamers, and flower arrangements. With her profits, she helps provide for her daughter and two grandchildren.
If you're in the Lancaster area this Saturday, March 9, make sure to join the free International Women's Day Celebration event taking place at the Ware Center! Hear from HOPE's Christine Baingana and others on issues affecting women worldwide. Learn more here.