Read how Linda Rondina used a loan from CCT, HOPE's partner in the Philippines, to provide a better future for her family, and visit leapfwd.us to learn more about how you can help clients like Linda this February 29.
Before Linda and her husband, Joseph, opened their first restaurant, she ran a variety store and he worked as a motorcycle taxi driver. Money was scarce: they and their four children lived in a small house that doubled as the store, and they often had to borrow from relatives to pay school fees. "I remember times when all I could give my children for dinner was a single piece of fish," Linda recalls. "The four of them would have to share that piece of fish."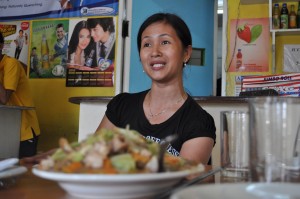 Linda used her first loan of $89 from CCT to increase her store's inventory, but she and Joseph dreamed of opening their own restaurant. As the couple accessed larger loans, they eventually sold Joseph's motorcycle and used the proceeds to open Joanjo Panciteria. While the first year was difficult, they persevered—and today Linda and Joseph have expanded to operate in four locations.
An astute businesswoman, Linda has also opened a piggery, feeding the pigs with restaurant scraps. With the profits from her businesses, Linda is not only able to feed her children but also to pay for all of them to attend school. "The loans have made it so much easier to do business," Linda says, "and because of this, I have fewer worries now about the future of my children." Remembering their own struggles to provide for their family, the couple also gives generously, housing relatives and employing several neighbors in need.