"For our struggle is not against flesh and blood, but against the rulers, against the authorities, against the powers of this dark world and against the spiritual forces of evil in the heavenly realms." Ephesians 6:12
It's been eight months since I've returned home from Rwanda, and one impression from the trip keeps coming back to me: Satan has never felt more real to me than he did in Rwanda. It wasn't because the people I met seemed evil. On the contrary, it was because they were welcoming and wonderful, and without the influence of Satan, I can't imagine how 18 years ago, these incredible people could have spent 100 days engaged in a gruesome slaughter of their neighbors, friends, and families.
As the government has set to work rebuilding this beautiful nation and reuniting a fractured people, they've taken many important steps to erase ethnic divisionism. They've changed the flag, abolished identity cards, and implemented a broad-ranging policy against hate speech. Ostensibly, things are much better now. But is legislation changing hearts? I think about Satan and his role in the Rwandan genocide, and I wonder if a policy of collective amnesia will serve the country well when, in reality, no one has forgotten the genocide. In a piece appearing in The New Yorker, Philip Gourevitch writes of one presidential aide's confession: "You'd probably have to arrest everyone in the country every night for ethnic divisionism, if you could hear how we talk about each other in our homes."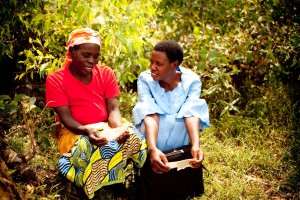 While I saw so much evidence in Rwanda of the work of one who comes to steal, kill, and destroy (John 10:10), I also saw the work of a Redeemer. In HOPE's savings groups, I felt the presence of God—in the way that joy erupted in songs of praise and spontaneous dancing, but even more so in the way members loved one another. On my entire trip, the only time I remember a Rwandan mentioning Tutsis or Hutus was when a woman told me that her savings group has welcomed both victims and perpetrators of the genocide. Their journey of forgiveness and reconciliation has taken several years. They have pushed through pain, awkwardness, and guilt, and today they genuinely love one another as sisters. They farm each other's fields and put one another's needs above their own. They look like reconciled people. "By this everyone will know that you are my disciples, if you love one another," John 13:35.
There's no doubt in my mind that both God and Satan remain active in Rwanda. One does some of his finest work when we fail to notice his activity or give him credit for it—burying the pain of the past in pursuit of the future. The other offers a path that is not easy, requiring forgiveness and repentance, but ultimately leading to true reconciliation and freedom. I think of the legacy that the women I met are leaving for their children and their country—not one of buried grudges and whitewashed pain, but rather a powerful testimony of how the love of Jesus overcomes division and conquers the one who delights in conflict and hatred. In stories like theirs, I know that Jesus is winning the battle for Rwanda.
Photos courtesy of Nikole Lim