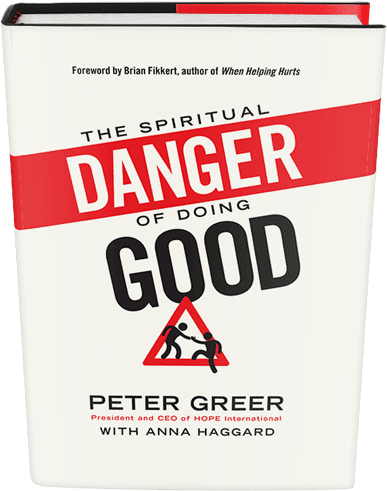 Just released!
The newest book from HOPE's president and CEO, Peter Greer
Many authors have shown that our helping can inadvertently hurt the people we serve. But can doing good also harm those who help?
In The Spiritual Danger of Doing Good, Peter Greer, along with Anna Haggard, explores the many pitfalls facing those in service, from not admitting our vulnerability to making ministry our mistress. With both humor and candor, Peter draws on personal experience to equip weekend volunteers and full-time ministry professionals to finish well—and to rediscover the heart of true service.
This book is a brilliant reminder that what we do is not nearly as important as who we are—and how much we give is not nearly as important as how much love is in the giving.

Shane Claiborne, author, activist, and lover of Jesus
I wish I could have read The Spiritual Danger of Doing Good as a young pastor. My idealism has often been my greatest strength and my most catastrophic weakness. Peter understands this, and his stories and insights would have saved me from heartache and major mistakes. It is a must read.

Chris Seay, pastor, Ecclesia Houston
Anchored in personal, gut-honest experience, The Spiritual Danger of Doing Good is a clarion call to all of us. Peter and Anna discuss how to change the world without sacrificing what is most important. I deeply resonate with the principles found in this book. I am taking an inventory of my own journey as a result.

Stephan Bauman, president and CEO, World Relief