As we approach the town of Kamenka (KAH-men-kuh) on a busy two-lane road, we pass dozens of trucks going the other way carrying fruits and vegetables. Some of these trucks are transporting produce to local and regional markets in surrounding cities like Zaporozhye, but there are larger refrigerated trucks that are traveling as far away as Kyiv and Moscow.
I'm traveling with Andre Barkov, the managing director of HOPE's microfinance institution in Ukraine, and Natasha Kurilenko, the director of marketing for HOPE Ukraine. We are traveling to Kamenka to visit our local branch, witness the greenhouse economy that has developed, and understand the ways that HOPE Ukraine's loans are providing a catalyst for economic development in the region.   
Over the past several years, greenhouse lending has become a significant portion of our loan portfolio in Ukraine. We have two types of loans:
Working capital loans that provide money for the farmer to purchase seed, coal, or replacement film for the greenhouse. These loans cover the variable costs associated with planting and harvesting a crop of greenhouse-grown fruits and vegetables and are typically in the $1,000-$1,500 range.
Investment loans that provide funding for capital purchases or investments. These loans would cover investments like building a new greenhouse, building a heating system to extend the farmable months deeper into the winter, or upgrading the greenhouse's irrigation system. These loans tend to be larger, in the $2,000-$3,000 range.
Greenhouse loans have a term of nine months, with three payments. The loan officer visits the clients both for repayments and throughout the term of the loan to check up on the business as well as to minister to and encourage clients.
Greenhouse farming suits this region of Ukraine for several reasons: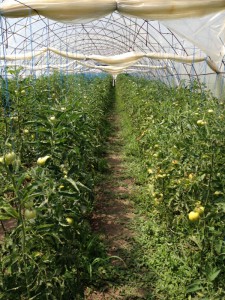 A greenhouse allows farmers to have two to three harvests per year, rather than the one harvest of an open-air farm. Ukraine's winters are brutally cold but full of sunshine, while summers are surprisingly warm (especially in a greenhouse). Greenhouses extend farmable months from six per year to nine or ten.
The soil in this region of Ukraine is very fertile ("best soil in the world," says Andre proudly).
Kamenka is right on the Dnieper River, which means the water table is very high. This allows farmers to have easy access to water by digging a much shallower well than what is needed in other parts of the country.
The area is very rural, and farmers have inexpensive access to much larger tracts of land than in more urban or suburban parts of Ukraine.
These same factors lead to a higher-quality product, one that is less threatened by drought or cold weather than open-air crops. Greenhouse tomatoes, cucumbers, cabbage, radishes, and beans command premium pricing in the markets as a result.
We have the chance to visit several greenhouse farmers while we are in Kamenka. The first is Nicholas (pictured above), an Armenian who immigrated to Ukraine about 25 years ago. He has three greenhouses and enjoys three harvests per year (two tomato cycles and a cycle of beans in between). He has taken out and repaid four loans from HOPE Ukraine—three working capital loans and one investment loan which he used to build an auxiliary heating system. This auxiliary heating system allows him to plant his first cycle of crops in early rather than late March, so he can get his tomatoes to market sooner, allowing him stronger pricing than he would get otherwise. He plans to take out another investment loan to allow him to upgrade his irrigation system.
Nicholas speaks very highly of HOPE Ukraine, especially the relationship that he's been able to build with Yuri, the loan officer in the Kamenka branch. "I am very happy as a HOPE Ukraine client and have referred it to several of my friends," he says. "When HOPE accepted us for a loan, it made us so happy. Yuri is a great person. He is so friendly and cares about us."
Then we visit Volodya, who has also been a client of HOPE Ukraine for four years. He has primarily taken out investment loans, which he has used to build a second and third greenhouse and strengthen the frame of his original greenhouse. He plans to use his next loan to build an auxiliary heating system. Volodya grows tomatoes, radishes, and cucumbers. He also speaks highly of HOPE Ukraine and his relationship with Yuri. "I love working with HOPE Ukraine, and Yuri is wonderful to work with."
In addition to the farmers, there is a value chain that has developed around them. We visit a supply shop that sells seed, machinery, and greenhouse supplies to the farmers. They import seed from Holland, Italy, and France. They also have a loan from HOPE Ukraine to provide them with stronger working capital; this working capital allows them funding to fully stock their shelves throughout the year to meet the farmers' needs.
It's clear that Yuri has built strong relationships with his clients. These relationships allow him to make better loans, but they also allow him to encourage his clients spiritually. As he gets to know them better, he reads the Bible with them, lifts them up when they're going through difficult times, and helps connect them with the area's local church.
Greenhouse lending has been a major source of economic growth in the Kamenka region and a major source of growth and outreach for HOPE Ukraine. I've really enjoyed getting to know Yuri and our clients and coming to better understand the greenhouse economy that is thriving here in Kamenka.