Celestin, his wife, Gaudance, and their eight children (three pictured above) live in the hills surrounding Gasharu, Rwanda. They beam with joy as they welcome guests to their home, proudly presenting produce from their farm and the squealing piglets and livestock they raise. A few years ago, such a welcome would have been impossible.
"We were poor on the outside, but also on the inside, because poverty starts in the heart," says Celestin. For many years he struggled with alcoholism, using the little money his family had in bars and brothels. Feeling abandoned and angry because of her husband's unfaithfulness, Gaudance also turned to alcohol. She remembers, "My heart was full of sorrow. I couldn't help my children. … Sometimes I would go into the bars to fight with those prostitutes. But all those things brought only more conflict and poverty."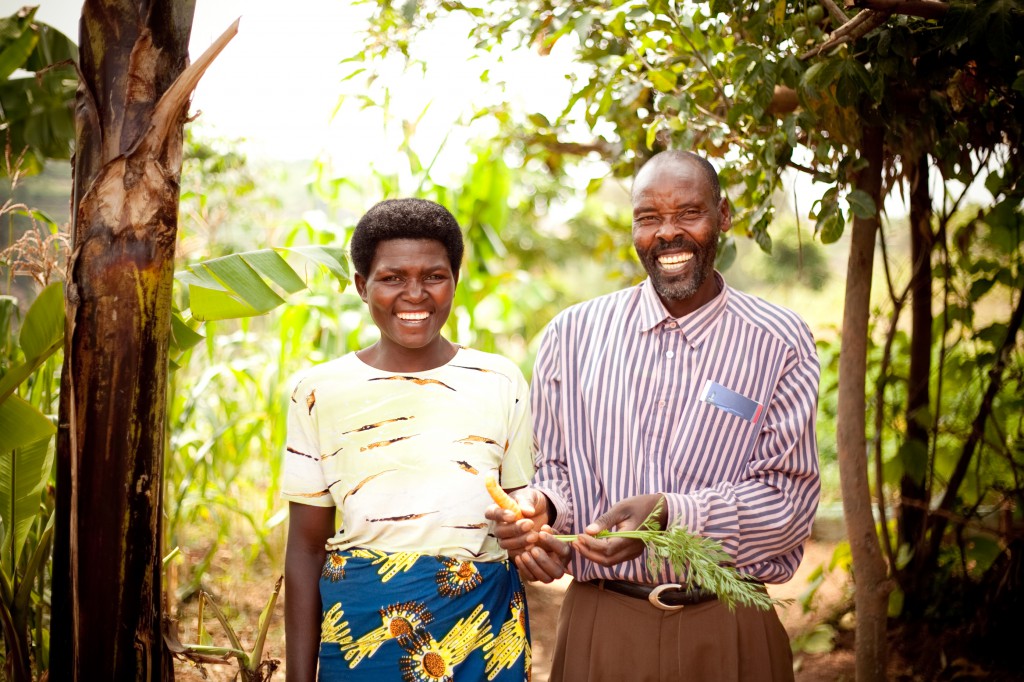 Accepting the Father's love
Their daily cycle of conflict and poverty felt inescapable. "But then a time came," says Celestin, when everything changed. Gaudance was first to give her life to Christ, and she prayed for her husband too, that he would know peace. And God answered her prayer. Celestin recalls, "God appeared to me, and I heard a voice telling me to be saved." This was his second chance, and he shared with Gaudance his decision to give his life to Jesus. In Christ, they found peace and chose to allow forgiveness and healing into their marriage. A loving father again to his children, Celestin says, "We have joy in our family."
As they reconciled their marriage, Celestin and Gaudance became a team again, providing for their family's needs together. Gaudance explains, "I had no ownership of our money at that time, but today we share everything." Through their church, they joined a HOPE savings group. Each week they save small sums of money with the option to take out loans to invest in their home, farm, and livestock. With their increased savings, they opened their first bank account.
Living out the Gospel together
As they've experienced peace in their home, Celestin and Gaudance found their savings group to be a loving community that encourages them to study the Bible and live out the Gospel. "If fellow group members face a problem, we take that problem as a group," says Celestin. Gaudance adds, "We thank God for providing this savings group. It's like a family."
As they welcome guests into their home, the transformation in their lives is evident—on the outside and inside. Now their home is a place of peace, and the spiritual poverty they felt in their hearts is filled with the Father's love, sustaining Celestin as a father to his children, faithful husband, and a provider for his family.