An unlikely blend of skills and passions
"Wow, those two majors really don't make sense together!"
That's the response Mikhal Szabo came to expect whenever she told new acquaintances she was double majoring in accounting and French. Her interest in languages, culture, anthropology, and international studies didn't seem to mesh with the risk-averse accountant stereotype, but she followed her passions anyway.
As she went on to earn her MBA in international economic development after a few years in private accounting, Mikhal learned about microfinance and, ultimately, about HOPE International. She was impressed both by HOPE's holistic approach to poverty alleviation and their openness to learning. As part of her graduate work, she served as a finance intern with HOPE in the French-speaking Democratic Republic of Congo (DRC).
Suddenly, Mikhal's seemingly unlikely double majors made sense. A lot of sense. In fact, her rare blend of language, finance, and intercultural skills was exactly what HOPE needed.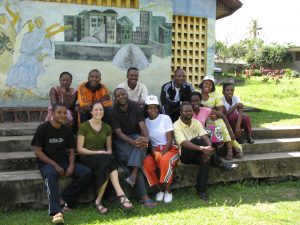 After spending six months serving HOPE in Kinshasa, DRC—Africa's third largest city—she joined the flagship staff of HOPE's newest microfinance program in the neighboring Republic of Congo. Serving for a year as finance manager of HOPE Congo, she relied daily on her skills in French, cross-cultural communication, accounting, and management.
Upon returning to the U.S., Mikhal worked for PwC in public accounting while she earned her CPA and got married. After two years, Mikhal and her husband Scott began seeking God's next step for them in ministry. Their search led them to Lancaster, PA, where Scott agreed to pastor a church, and Mikhal rejoined HOPE as a senior international accountant at HOPE's main office.
Reflecting on the twists and turns of her career journey after five years on HOPE's staff, Mikhal says, "I continue to learn about God's faithfulness. It is amazing to think through the prayers He answered and the unexpected ways He has worked, pulling us through difficult situations."
HOPE's staff, too, feel grateful for Mikhal's service. "It's not easy to find job candidates with Mikhal's skill set, maturity, and servant-like attitude. Our HR team regularly prays that God would send us more people like her," says Rachel Weaver, senior recruitment and retention specialist.
More than just a job
Mikhal's career at HOPE has transcended the traditional professional experience. Equipped with HOPE's perspective on charity and development, she now helps her church think through the impact of their missions efforts, and she and Scott continually aim to serve their neighbors well.
HOPE's flexible and part-time working arrangements have allowed Mikhal to continue working while spending time with her son and daughter. Her HOPE experiences even help shape her parenting approach. "I want [my children] to be well educated about various cultures and the hard realities many people face around the world," she says. "I want to raise them to be adventurous, flexible, inquisitive, and loving, all in a way that honors their individual passions."
Mikhal desires to hear and obey God's will at an even deeper level. "I want to see people thriving in close relationships with the Lord. I dream of a community working together to show love to one another and their neighbors in both tangible and intangible ways."
Does this sound like someone you know?
If you or someone you know has a similarly unconventional skill set and feel drawn to HOPE's holistic mission and encouraging work environment, check out our open positions.