By Dan Williams, Director of Spiritual Integration
A weekly series from HOPE's director of spiritual integration
He has shown you, O mortal, what is good. And what does the Lord require of you? To act justly and to love mercy and to walk humbly with your God." Micah 6:8
As we continue to dive into God's requirements of us in Micah 6:8, let's look at what it means to love mercy.
Driving home late from work one night in Haiti, I had a terrible motorcycle accident … involving a cow. The most severe of my injuries were compound open fractures to my left forearm—meaning that a surgeon in Florida had to repair it with two plates, 13 screws, and remove something that "looked like cow fur" lodged in my wound.
While I eventually made a full recovery, there is something that still troubles me about that night. The first Haitians to arrive at the scene of the accident asked me, "Do you have money?" Which meant: Can you pay for a hospital, or do we take you home?
Living in an economy where the systems of mercy like hospitals are often inaccessible, my Haitian rescuers were aware that many people with grave injuries couldn't afford the medical care they needed. The honest answer was that I didn't have the money to pay for that accident. The final total of my medical bills following the accident would be near $150,000. However, because I had medical insurance, merciful people were given the means to act mercifully by seeking care for me.
My Haitian rescuers were willing to offer mercy to me in my moment of need, but living in their current system, their mercy was hindered by broken systems. We read in Matthew 9:13 that Jesus told the Pharisees to go and learn what God means when He says, "I desire mercy, not sacrifice." The Pharisees cared more for religious rituals more than they did showing mercy. They needed to realign their hearts with God's. But beyond heart change, they also needed to readjust the systems and structures they had developed to support right sacrifice that often blocked the means to offer mercy.
Seeking to integrate biblical mercy into their own systems, the staff of Invest-Credit, HOPE's microfinance partner in Moldova, asked how they might better support businesses that experience temporary hardship. So they created a new policy that eased the repayment timeline for businesses experiencing challenges. And you know what they found? Not only did this policy not hurt repayment rates, but it also created more opportunities for their staff to pray with clients when they shared about their business difficulties.
As followers of Jesus, the mercy God has extended to us should move our hearts to act mercifully. From this merciful heart posture, we seek opportunities to adjust the systems we operate within so that even more people can participate in showing mercy to those around them.
Learn how Savera, a client of Urwego, HOPE's microfinance program in Rwanda, used loans to grow her businesses and employ over 50 people in her community. Watch her story.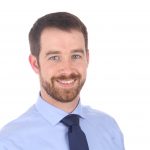 Dan joined HOPE in 2011 and has served in a variety of roles, currently serving as director of spiritual integration. He studied international business at the University of South Carolina and served for 2 1/2 years as a missionary in Niger. He and his wife, Ashley, and daughter, Maelyn, live in Durham, NC, where they are active members of Christ Central Church.