By Dan Williams, Director of Spiritual Integration
A weekly series from HOPE's director of spiritual integration
"He has shown you, O mortal, what is good. And what does the Lord require of you? To act justly and to love mercy and to walk humbly with your God." Micah 6:8
As we continue to dive into God's requirements of us in Micah 6:8, let's look at what it means to walk humbly. This may be the hardest one, but stick with me.
In all of my travels, one of the most fascinating historical sights I have visited is La Citadelle in northern Haiti. After Haiti won its independence from France in a slave rebellion in 1804, the first Haitian king of the North built an enormous fortress on the mountains overlooking the sea to protect the island from a French return. It may be one of the most impressive structures I've ever visited. The tragic irony of this fortress is that the Haitian king built the fortress using slave labor—enslaving 20,000 of his kinsman for its construction, with thousands perishing during the project due to overwork.
Why would a king, who was granted his kingdom through a rebellion of slaves, turn around and enslave his own people for a huge construction project? At a certain point, that king became so concerned with protecting his kingdom that he didn't care what it cost the people he was supposed to be protecting.
This seems like exactly the opposite of the kind of leadership that Jesus describes in Mark 10:43, "Whoever wants to be great among you must be your servant, and whoever wants to be first must be slave of all."
We need to learn from the humility that Jesus demonstrated. And we also need to develop the means to express our humility in our jobs, or workplaces, and especially with those we might think of as our competitors.
A small contingent of HOPE staff works out of Durham, North Carolina. We're blessed to work out of the American Underground, a coworking space that has grown to have the reputation of "startup hub of the Southeast" because of the number of successful startups that work there. And every day on the interoffice Listserv, companies are reaching out to each other for help. Sometimes a company needs a good reference for a web designer; sometimes they need people to test their products and offer feedback; sometimes they need advice on how to better communicate their plan to potential investors.
The overwhelming response to requests amazes me. You might expect a competitive environment but, instead, it's highly collaborative. And I think this is because the American Underground team, through networking events, pitch fests, and meetups, have provided the means for companies to serve one another. People at the Underground are deeply concerned about the success of their companies—but as they serve one another, they grow both in humility and a concern for the success of the Underground community.
Walking humbly means seeing our place in the Kingdom as one part of a greater body. We are each important parts of that body, but none of us is the most important piece. As HOPE's president and CEO, Peter Greer, and vice president of development, Chris Horst, write in Rooting for Rivals, "The beauty and joy of what God is doing through us working together is far more compelling to the world than anything we can do alone."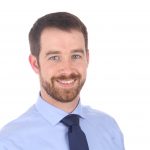 Dan joined HOPE in 2011 and has served in a variety of roles, currently serving as director of spiritual integration. He studied international business at the University of South Carolina and served for 2 1/2 years as a missionary in Niger. He and his wife, Ashley, and daughter, Maelyn, live in Durham, NC, where they are active members of Christ Central Church.