By Maddie Conley, Social Media Intern
Each year, HOPE International receives hundreds of applicants for our summer internship program. Those accepted work alongside HOPE staff in a variety of departments doing work that has an impact across the globe. This past summer, 11 interns joined the HOPE team in Lancaster, PA. Some commuted no more than 30 minutes from home, while others left family and friends in other states.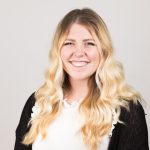 When Biola University student and California native Amy Dunham applied for three positions on HOPE's development team in various states, there may have been an obvious choice—she would stay close to home. But knowing God doesn't always work though obvious choices, Amy left it up to HOPE to place her where they felt led. After much prayer, Amy packed up her bags and headed to Pennsylvania.
Accounting operations intern Gracie Edwards related to Amy's location predicament. She chose to spend her summer away from both her friends at Baylor University in Texas and family in California. After interning in a secular workplace last summer, Gracie was excited to experience working for a faith-based nonprofit. "You don't just feel like you're an intern, you feel like a Kingdom-worker," Gracie shared. "Where other organizations may be grooming you to work at their organization, HOPE is grooming you to change the world whether it's with them or not."
As summer neared its close, internships came to an end. "It's sad that I'm leaving HOPE, but I know the friendships I've made will continue," Amy said. "I'm looking forward to seeing how God will use what I've learned this summer in my future."
Interns and fellows at HOPE enjoy the benefits of a challenging and meaningful business experience while working in a spiritually nurturing environment. Learn more at www.hopeinternational.org/grow.
Applications for summer 2019 internships open in November 2018.