In the developing world, children are often among the most vulnerable. Living on less than $1.90 a day, an estimated 385 million children live in extreme poverty, experiencing chronic malnutrition, food shortages, and lack of clean water.
HOPE believes one of the best ways to care for children living in poverty is to empower their parents. Using HOPE-network services, parents and caregivers start savings accounts or build up small businesses, providing for their children's needs themselves rather than relying on outside charities or services.
When parents are equipped and empowered, they can: 
Better meet basic needs
As families access financial services, they start small businesses or build savings accounts, using funds to increase household assets or as a buffer against emergencies. With stabilized finances, parents can more consistently provide for basic needs in their family—nutritious meals, medication, home improvements, and clothing. In Rwanda, of surveyed savings group members that experienced infrequent access to food in 2015; a year later 41 percent reported that they often or always had enough to eat.*
Prioritize education
In many countries where HOPE works, education isn't accessible for everyone. In Malawi, only 35 percent of children complete primary school. And when families are struggling to put food on the table, school fees—long-term investments—are often the first thing to be cut from household budgets. But as household income and savings increase, families can consistently send more children to school. In Congo, 25 percent of surveyed clients shared that they were saving toward education.*
"My kids are happy now; I can see it on their faces. They are safer now, and they eat better. My children see me as successful and a hard worker. Sometimes they tell me they think we are the richest people in our community." Cecile Nyiransabimana, savings group member, Rwanda
Grow spiritually
As HOPE-network clients receive discipleship and training from HOPE staff and local church partners, they grow deeper in their understanding of God's love for them and how to walk with Him. In closer communion with God, parents are better equipped to disciple their children, leading them to the truth.
Invest in the greater community
With greater financial stability, parents have more margin to serve the community around them, including children. HOPE-network clients become agents of transformation in their communities—like Jimmy Maduko in Malawi, who opened a primary school and currently serves 78 students, and Theresa Mukabera in Rwanda, who adopted two orphans and supports two elderly neighbors.
Weaken generational poverty
The importance of savings varies widely across families and cultures. In many cases, parents in the developing world aren't modeling the practice of savings for the next generation—often because their parents also did not practice it. Parents who prioritize savings are not just changing their own family's situation; they are weakening the generational grip of poverty.
"I thank God that I am no longer poor, that my family can eat three times a day … and that we can go places we want to go." Andonie Digaynon, the Center for Community Transformation, Philippines
Learn more about how the HOPE network impacts children by watching Andonie's story of generosity and providing for his children.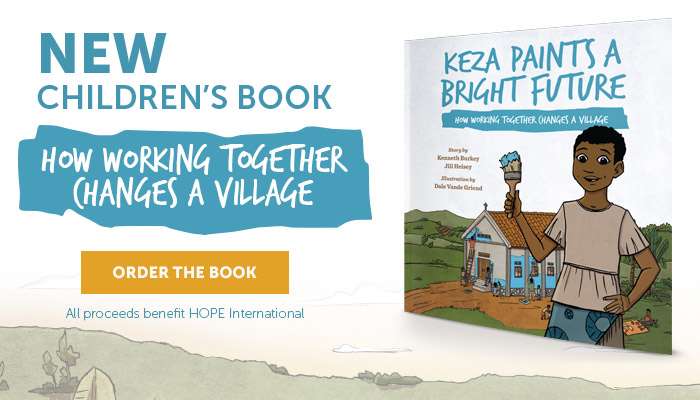 HOPE International's first children's book tells the story of a young Rwandan girl who dreams of joining the other children at school. Designed for young readers, this book helps parents introduce their kids to global issues. Buy your copy: www.hopeinternational.org/keza
*Data taken from the HOPE Quotient, a 100-question survey administered to a random sampling of clients once a year from 2014-2016.
Header image: Evelyn, a savings group member in Peru, with her family