As a child whose family had lived in Dakar, Senegal, for three years (pictured below), Katy Rogers had seen poverty. Later, as a college student volunteering in Rwanda, she believed she saw a viable part of the solution: Christ-centered microfinance. As she grew in her understanding of microfinance, Katy says, "It felt like, That's my purpose in life. That's what God has prepared me for."
An invitation to listen first
Sixteen years ago, Peter Greer, HOPE's now-president and CEO, hired Katy as an intern. Katy—then a senior at Wheaton College—moved to Kigali, Rwanda, and spent six months completing a poverty assessment for Urwego Bank, a microfinance organization in the HOPE network. Their time in Rwanda overlapped only briefly, but in 2018 that initial meeting came full circle when Peter joyfully extended an offer to Katy to become HOPE International's newest board member.
In many ways, the trajectory that resulted in Katy's appointment to HOPE's board began with that internship in Rwanda. Katy recalls the time as transformational. She visited and interviewed rural Rwandan families in their homes, hearing in families' own words what it meant to live in poverty. As she interviewed microfinance clients and their neighbors, she saw firsthand the difference that financial services could make in the lives of men and women who had dreams and potential but few resources.
A different

dire

ction
After concluding her internship, Katy returned to the U.S. and graduated with degrees in business and economics. She began work with ACCION Chicago on their domestic microfinance programs, all the while expecting she would gain experience and return to Africa within a few years. In Chicago, she met and married her husband, and as the two prayed through their calling, Katy applied for a job with HOPE, interviewing with Chris Horst, now HOPE's chief advancement officer.
However, God was leading elsewhere, and Katy and her husband moved to Colorado, where she helped ACCION launch a new branch office. There Katy developed a love for personal finance education, which led her to join mpowered, a nonprofit that promotes financial stability by helping Coloradans make informed financial decisions and effectively manage their money.
Prepared for such a time as this
Not long after her move, she met Chris Horst—who had also recently relocated to Colorado— face-to-face. With Katy's experience in both domestic and international microfinance and her passion for sharing the Gospel, Chris asked her to serve on HOPE's local board in Colorado. For eight years, Katy served with great competence, enthusiasm, and faithfulness. Despite her busy schedule as a working mother of four, Katy generously shared her unique perspective and skills. Her significant contributions to HOPE's mission led to the invitation to serve on HOPE's board of directors. "Katy brings spiritual wisdom, commitment, and relevant experience to the boardroom. I can't imagine someone better suited to join HOPE's board," notes Chris.
For her part, Katy is eager to further HOPE's "eternally significant work" in any way she can. "Because of the experiences, passions, and giftings God has given me, I really feel like I am called to be involved in Christ-honoring and Christ-centered microfinance," she shares. Theologian Frederick Buechner describes calling as "the place where your deep gladness and the world's deep hunger meet." It certainly seems as though Katy Rogers has found hers.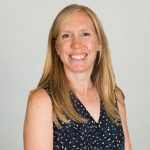 In addition to serving on HOPE's board of directors, Katy Rogers currently serves as the human resources director of mpowered, a Colorado-based nonprofit organization providing personal finance coaching and classes. Her nonprofit management experience includes four years as Accion Chicago's director of marketing and lending, one year with Accion in Colorado, and three years as mpowered's (then Community Credit Counseling Services) director of programs. Read the rest of her bio here.