By Lesly Jules, HOPE Haiti Country Director
If you follow much of the U.S.-reported news on my home country of Haiti, you're probably used to hearing reports of protests, violence, natural disasters, and corruption. In our country, our history is colored with chronic instability and volatility.
Since Jean-Claude Duvalier's dictatorship ended in 1986, Haiti entered a period of unrest that has lasted until today. Though the presidential term is five years, few presidents have lasted the entire term. Since most Haitian presidents don't anticipate being in office for a full five years, they rarely make strides toward the greater development of Haiti. Many politicians families' do not even live in Haiti, giving them even less of a vested interested in Haiti's improvement as a nation.
In 1993, the United Nations sent peacekeepers into Haiti to help prevent any possible coup d'état. And while this seemed like a positive development for Haiti, it wasn't well-perceived by foreign investors. Viewing Haiti as greatly unstable, investors chose not to invest in Haiti, further stunting Haiti's development. But since the peacekeepers withdrew from Haiti in 2017, rumors of a coup d'état continue to circulate, sparking increased tensions between Haiti's highest-ranking leaders. And that leads to situations like we saw last week where the prime minister was ousted unexpectedly.
But despite the great challenges the nation is facing, God is on the move through the 428 savings groups served by our church partners throughout the country.
Since most savings groups in Haiti are located outside of the capital of Port-au-Prince, they've been largely insulated from the protests Haiti's seen over inflation, rising fuel prices, and accusations of governmental corruption.
Savings groups create a community where people have hope for the future. Since Haiti has no formal social services, rural families often feel isolated. But the savings group provides a system of support. It creates an environment where people can trust one another. Most members would testify that their savings group is like their family. Through savings groups, over 7,000 Haitian men and women like Manoucheka are able to launch businesses, build community, grow in Christ, and step out of the isolation of poverty.
In Haiti, there's so much that creates disunity—division between classes, belief systems, skin color, languages, and rural versus urban populations. But savings groups provide an opportunity for people to band together in an ever-changing political climate.
As our nation continues to face turmoil, I ask that you join us in praying for these things for Haiti:
Praise God that He is at work in Haiti—that He loves each of the 11 million people living in this country and His heart breaks to see violence.
The Church in Haiti has been reticent to speak boldly on the injustices the nation faces. Pray that the Lord would empower and equip the Haitian Church to intercede in the issues facing our nation, proclaiming Christ's name.
Pray for the end of divisions, prejudices, and stereotypes of all kinds, allowing Haiti to be a united country.
Pray for protection over HOPE Haiti staff, facilitators, and church partners. As gang violence gains strength in the southern parts of the country, travel has become increasingly dangerous. Pray for God's protection over us as we visit savings groups in these regions.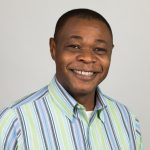 Dr. Lesly Jules brings 25 years of experience in community and economic development in Haiti. With a master's degree in entrepreneurship and a Ph.D. in leadership & mastery of change, Lesly is also the principal author of three management books; the latest is a handbook for church management. In his three years with HOPE Haiti, Lesly has been instrumental in securing legal registration, leading the strategic plan process, implementing formal human resource and finance processes, and helping build capacity in the local staff and volunteer church facilitators and field coordinators. He lives in Port-au-Prince with his wife, Kerline, and their son, Oliver.