by Laura Beirne, Senior Human Resources Business Partner
I spend my days talking with people who want to work at HOPE International. I interview candidates who are filled with enthusiasm and passion. They're enlivened by HOPE's goals and drawn to the way we pray together and care for one another as we carry out our work. They remind me daily why HOPE's mission is inspiring and important—and that our corporate culture is unique.
At HOPE, I love that we have an opportunity to approach staff recruitment differently. We're not just hiring the most qualified person for a job; we are looking for team members who will further our pursuit of a Kingdom-focused mission. Because our goals are a little different than some companies', so is our hiring process. Here are four unconventional things applicants may observe in our recruitment process:
We screen for holistic fit, not just job fit. Of course, we need to know candidates are competent in the skills needed to do the job they're applying for. But beyond that, we want to know about their relationship with Jesus Christ, their connection to their community, the depth of their character, and their life's calling. So in addition to asking, "Tell us about your experience with this accounting software," we may also ask, "What has God been teaching you lately?"
We are focused on supporting God's Kingdom at large, not just filling the immediate staffing needs of HOPE International. As a result, we actively refer candidates in our network of like-minded organizations when appropriate. When a new employee accepted a position with HOPE and the nonprofit where he had formerly served struggled to fill the vacated role, we leveraged our own network to help spread the word. We didn't want our gain to result in a loss elsewhere in the Kingdom.
We pray over open positions, interviews, and candidates. If we feel the Lord is telling us to pause or change directions, we will—and we have. We track internal time-to-fill metrics to keep our recruitment processes moving along, but we are willing to delay or restart search processes that don't feel right. We also aim to form long-term relationships with our candidates in recognition that God's timing is often different than our own. In fact, we recently hired someone who had been applying to HOPE for six years. It was finally the right time and role!
We value all candidates, not just the ones we hire. We want even candidates who receive regrets notices to walk away as raving fans of our organization. We once had a candidate share that, though they didn't end up in a job with HOPE, they grew in their personal faith as a result of interactions with our team. THAT is unique.
Is it the right time for you to join us at HOPE? Visit our careers website to see our open roles, along with opportunities to serve as a fellow or intern.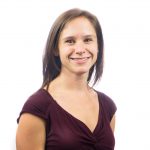 Laura Beirne is a senior human resources business partner at HOPE International. Her role is focused around recruitment, retention, and HR strategy for the operations team at HOPE.  She started with HOPE as an intern in 2009 and has since served on the HR team in a variety of functions. She holds her bachelors degree in human resource management from Messiah College and SHRM-CP credentials. Laura lives in Stony Brook, NY, with her husband, Tim, and two daughters, Madison and Kennedy.