A passion for entrepreneurship can be kindled in a number of different ways.
For some, it's the classic childhood lemonade stand that initially piques interest; others point to a formative internship or mentor; and for others, it's building upon an earlier innovation. For Mauvalyn Bowen, a member of HOPE's local board in Minnesota, it was riding on the back of a donkey as she and her mother (pictured above, along with Mauvlyn's father and husband) made their weekly trek to market.
Growing up on a farm in a rural area of Saint Ann, Jamaica, Mauvalyn recalls that many families struggled to make ends meet. "It wasn't always easy—because the community was not a rich community," she explains. "There was poverty around, so I experienced that—I had that around me."
Mauvalyn's father worked as a farmer and mason, yet the needs of their family of nine went beyond the income he could bring in on his own. To bridge the gap, Mauvalyn's mother got creative.
While Mauvalyn's father tended to the land, her mother began taking the produce he cultivated—yams, potatoes, and other vegetables—to the market to sell. That's when Mauvalyn's weekly donkey rides began. After loading a cart with the goods for the donkey to pull, she'd climb on. "I would sit as a little girl on top and go to the market and help Mom," she recalls.
As Mauvalyn grew, her mother invited her to participate in various aspects of the family's business at the market. "I was kind of a little bit of a marketer, a little bit of salesgirl, a little bit of everything," she says. "I loved it!"
Since then, Mauvalyn has sought out ways to invest in others like her mother invested in her. As a Fulbright Fellow, she conducted research that ultimately led her to help establish a school of entrepreneurship at the University of Technology in Kingston. Today, about 200 up-and-coming entrepreneurs can use the space to participate in a business incubator, take courses, network, and earn a business degree. In this way, Mauvalyn shares, the school equips "people in the community on how to go about creating jobs for themselves."
After two years of developing that program, Mauvalyn moved to the U.S. and began a job as an associate professor at Bethel University in St. Paul, Minnesota. That's when a friend from her church told her about HOPE International, and she learned about a woman named Savera.
"[Savera's story] really reminded me of home and when I used to go with my mom," recalls Mauvalyn. "We weren't rich—there was poverty. But how we really worked around that, with the help of God and using our hands … that resonated with me."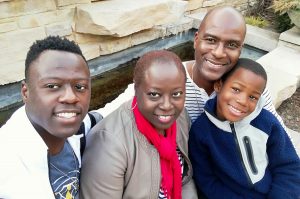 Mauvalyn served for the three years as a member of HOPE's local board in Minneapolis, and she and her family—her husband and their two sons (pictured left)—remain passionate about the work of HOPE, something that helps them connect their family history with her lifelong desire to empower entrepreneurs around the world.
"And so perhaps that's where my passion and love and entrepreneurship comes in," she says, "to just kind of see people develop and grow … and turn those great ideas that they have into reality."
Watch the stories of the 2019 Thurman Award honorees, three other men and women whose entrepreneurial spirits are motivating them to build their businesses, support their families, and serve their communities.