2020 was the most challenging year in HOPE International's 23-year history. Although we felt the strain of the pandemic on HOPE's operations, the hardest part was witnessing many of the men and women we serve endure illness, loss of life, overwhelmed health care systems, shortages, halted businesses, and falling income.
Microfinance institutions (MFIs) across the HOPE network rallied to assist struggling entrepreneurs, but with markets closed and commerce grinding to a halt, the outlook was grim for both MFIs and those we serve. We began to see a chain reaction play out across our network's operations:

But today, we're excited to report that we're seeing encouraging signs of recovery in HOPE-network microfinance institutions. We celebrate these because they indicate not only that our operations are returning to health but—even more importantly—that the families we serve are seeing their lives stabilize. Thanks be to God!
1. Improving PAR (Translation: People are again able to repay their loans!)
What's PAR>30? Well, forgive us while we get a little technical, but PAR stands for portfolio-at-risk and is a key indicator of an MFI's health. PAR>30 measures the percentage of the gross loan portfolio with overdue repayments of more than 30 days. As the graphic above illustrates, when COVID-19 shut down businesses and created health challenges, many of the entrepreneurs we serve lost income and had difficulty affording basic necessities, not to mention loan repayments. As a result, in 2020, we saw PAR spike, peaking at 35.3% in May:
Even though it felt risky, we approached 2020 as a year not to retreat but to move even closer in fellowship and support of the families we serve. And we weren't alone! Joined by incredibly generous donors who felt compelled to do the same and local staff and partners willing to go above and beyond to serve, HOPE offered more than $1.4 million back to entrepreneurs through grace periods, waived interest payments, loan restructuring, and other services.
And the recovery is continuing. As of April 2021, PAR of HOPE-managed MFIs was at 7.6%. Even if you're not a numbers person like we are, this is exciting! Descending PAR reflects the hard work of local staff members and the perseverance of the men and women we serve as they see their businesses pick up and resume their loan repayments.
2. Growing gross loan portfolio (Translation: People are starting to take out loans again!)
As economic activities decreased for entrepreneurs due to lockdowns, many took a risk-averse approach: If they weren't sure their business activities could support repaying a loan, they weren't interested in taking one out. This was wise! But it also meant that our MFIs did not have the growth that we like to see as a sign of health, both for our internal operations and for local economic activity.
So far in 2021, though, we're beginning to see this trend reverse. Urwego Bank, HOPE's MFI in Rwanda, has seen a 5.6% increase in its loan portfolio. Urwego was one of the most heavily impacted programs in 2020, and the country experienced another round of lockdowns in early 2021, causing operations to suffer through the first months of the year. So 5.6% growth over the course of just a few months is hugely significant! Though its operations weren't as affected by COVID, HOPE Ukraine also saw incredible growth of 36%.
We praise God that the entrepreneurs we serve are able to return to work and that HOPE can partner with them by providing the capital they need to rebuild!
3. Restoring hope (No translation needed.)
Sometimes, numbers can't tell the whole story. In 2020, thousands of people across the HOPE network described the tragedy and crisis brought on by the pandemic. And, because poverty impacts more than just the material domain, we witnessed isolation, fear, and scarcity become very real threats.
Today, we're thrilled to report that we're hearing men and women describe a turnaround—in their businesses, families, and lives. Carrole Moussengue is a teacher whose school was ordered to close during lockdown, and she found herself unable to make rent payments or purchase daily necessities. But now, she says her loan through HOPE Congo provided her with the capital she needed to reopen, which "restored my confidence and gave me peace that no one else could give me."
Ana Suleika Cornelio de Alcantara, who owns a convenience store and is served by Esperanza International, HOPE's microfinance partner in the Dominican Republic, says, "I was desperate because of the failure of my business and because I couldn't provide for my kids, [but] now, I am empowered to succeed in life, with God's grace."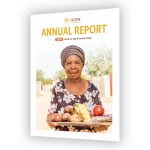 Read HOPE's 2020 annual report to learn more about what God did throughout the HOPE network in our most challenging year.