At HOPE International, we thank God for the privilege of walking alongside mothers around the world. Mentors and teachers, leaders and entrepreneurs, the mothers and mother figures we serve across the network teach us what it means to love those God has placed in front of us.
This Mother's Day, we're celebrating the many ways God moves when we invest in mothers.
1. The next generation finds an entrepreneurial example.
Maria Ortiz, a single mother of 11 children, has been taking loans with DiaconÍa, our microfinance partner in Paraguay, for the last six years. Although the COVID-19 pandemic forced her store to close for a bit, she used loans from Diaconía to reopen her store to continue providing for her family. By using these resources to run her business, Maria has set an entrepreneurial example for her children. Now, all four of her daughters participate in Diaconía's microfinance groups and have their own businesses!
2. Women unlock their leadership abilities.
When mothers have the support they need to invest in their dreams, they get the chance to exercise skills they never knew they had and become leaders in their communities. As a single mother, Aline Mushimiyimana experienced stigma and rejection by her neighbors—but she found acceptance and support in the community of her savings group. More recently, she volunteered to lead a savings group for other single moms, and she noticed that they began to look to her for encouragement and guidance.
"I try to console my fellow members and provide enough comfort to them. That's what they need from me as their leader. So, I become an example to them," Aline says. Learn more about Aline in "Dreams for My Daughter," a short film that tells her story.
3. Children get a better education.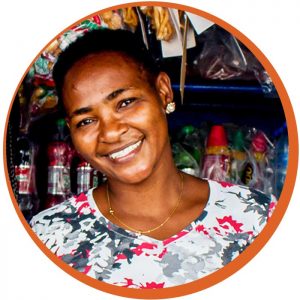 By taking small loans with Esperanza, HOPE's microfinance institution in the Dominican Republic, Joassaint Odalaine has not only built up her convenience store but also created a more hopeful future for her children.
Before borrowing with Esperanza, Joassaint says she wasn't able to send any of her children to school because they didn't have enough money to buy the required uniforms. The family often didn't have enough to eat, sometimes going without food for days at a time.
Over the past 10 years, Joassaint used small loans to turn her roadside candy business into an established storefront with products like coffee, breakfast foods, and snacks. Now all of her children attend school, and her oldest daughter recently received a scholarship to study art in Italy—the first in the family to attend university.
4. Families grow closer to Christ.
Learning more about Christ in her savings group with Seed Effect, our partner in Uganda, has helped Susan Amude extend Christ's love to her family. "Before I was in the group, our family was in darkness," she says. "There were a lot of quarrels. But after joining Seed Effect, the light of God has shined upon my family. Things have changed."
Praying in her savings group has also inspired Susan to pray with her family. "We used not to pray, but after joining Seed Effect, because of the encouragement to share the Word and pray for one another, as a family, we have started praying. It has become our culture in our family. Every night, we pray together as a family, and when we miss [prayer], we feel it."
5. Young adults find mentors.
When Ghislaine Matondo took out her fifth loan from HOPE Congo to start a sofa manufacturing business in 2020, the Lord gave her more than a business idea: He also gave her a vision to use that business to minister in her community. For years, a group of young people had built a reputation for carrying out violent attacks in Brazzaville, the Republic of Congo's capital. But Ghislaine chose to care for these young men, who others had rejected.
Ghislaine welcomed eight young men as apprentices in her sofa business. Now, she provides food, medical care, transportation, and even housing for those who need it. "I decided to bring these young people back into my workshop so that they could learn a trade instead of spreading terror in the city," she says. To learn more, watch our video of Ghislaine's story.
"I did not have the chance to have children—all this was not easy for me. God spoke to me to adopt these young people whom everyone treats as lost, to make them my children. And I love these children as if they were my own children. Caring for these children is my ministry."

Ghislaine Matondo
When we rally around moms and mother figures, God moves in their lives and uses them to transform their communities. This Mother's Day, we thank God for these incredible women—and we thank you for walking alongside them to invest in their dreams.
For another example of parents creating brighter futures for the next generation, read the story of Clarisa in Peru, who is teaching her children to save in her savings group.