"Before I was part of the savings group, I wasn't smiling."
Kerline Jean Louis' small restaurant is located alongside the bustling highway in Haiti that connects her rural town of Jeanton II with the capital city of Port-au-Prince. The business is perfectly positioned to appeal to the hungry travelers riding the colorful taxis (known affectionately as tap taps), buses, and motorcycles passing by.
A true businesswoman, Kerline likes to adjust her menu according to customer preferences: "It's really based on demand—some people like grits, some people like rice and beans," she explains. But before joining a savings group last year, she didn't have money to purchase the ingredients required to make her most popular dishes. Without reliable access to the necessary ingredients, her business position became precarious.
Then, Kerline's landlord unexpectedly announced he'd be selling her home; if she wanted to stay there, she'd have to purchase it for the 25,000 gourdes ($388 USD) he was asking for it. As a widow and single mother of three, Kerline is the sole provider for her household. She already struggled to have enough to pay for food, school fees, and rent—there was no way she could afford to buy her home outright. Moving elsewhere offered challenges, too; her home is situated just across the street from her restaurant, and the thought of leaving a space that had been a source of comfort and stability following her husband's death was difficult to consider.
Kerline and her children were facing the possibility of homelessness.
"Now, you see me smiling; it's because I'm happy."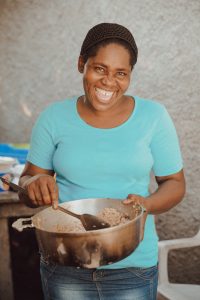 At a crossroad, Kerline's life was about to go one of two ways. She had recently joined a savings group through her church, a partner of HOPE Haiti—and that turned out to be a defining decision.
"I told my group about my problem," she says. In response, her group rallied, offering her a first loan to cover the sum she needed to purchase her home. "Now, I'm my own landlord!" she declares. As a homeowner, Kerline repurposed the funds she typically used for rent to first pay her group back and then purchase ingredients for her business.
Today, Kerline can be seen spooning fluffy rice out of one large metal pot, stirring meat in another, and simmering beans in a savory sauce in a third. She has also expanded her restaurant to include a catering arm, cooking up meal orders for construction workers, training seminar attendees, and other groups meeting nearby.
Being a member of the savings group has meant more to Kerline than just housing and income, though. On her birthday, group members visited her home to clean it and bring her gifts to celebrate. "I felt like I was part of a family," she shares. "I feel valued when I'm part of the group—and I know that when I'm with the group, I feel important."
And Kerline says that the hope she's found is rooted in Christ: "It's really different when I'm comparing my spiritual life before the saving group and after the savings group. Sometimes, before, I used to think, 'What am I going to do with these children that I have to raise?' But now, I don't think about these things, because I have more confidence that God will sustain me."
Love that overflows

When asked about the name of their group—the Deborah Savings Group—the 14 women and two men who are members point to Scripture. Inspired by the Old Testament prophetess, Deborah, they faithfully assemble to battle against the isolation, fear, and injustices of poverty—not only in their own lives, but in those of their neighbors as well.
"If there is a community member in need, even when that person isn't part of the group, we collect money together. We have an offering within the group to support that person," Kerline explains.
The group's commitment illustrates the reality that when women are empowered, the impact is extensive.
As Kerline puts it, transformation starts with experiencing God's unfailing love and then allowing that love to flow out to others: "I would like to stay at the feet of the Lord and continue to work, so that I can help my children and people in need."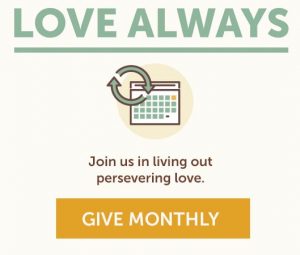 Day in and day out, women like Kerline, Francoise, Serafina, and Johana are extending God's constant, never-failing, always-persevering love to their families and communities.
Through a monthly gift of $36, you'll stand with 22 clients* each year in God's love.
*Based on the average investment per client in the HOPE network in 2017
In Created to Flourish, Peter Greer and Phil Smith explore the Church's call to respond to families living in poverty and discuss practical ways to get involved.